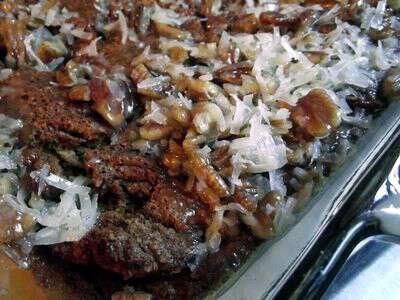 A few weeks ago, Miss Cindy showed us how to make a Fruit Cocktail Cake and I'm so glad she did!
Miss Cindy said she used to make them all the time but over the years she just sorta forgot about them and then something made her think of the recipe and she knew she had to share it with me and you.
You need:
1 1/2 cup sugar
2 eggs
2 cups plain flour
2 teaspoon baking soda
1 can fruit cocktail
Sauce:
1 1/2 cup sugar
1 stick of butter
1 teaspoon of vanilla
1 large can evaporated milk
1 cup pecans
1 cup coconut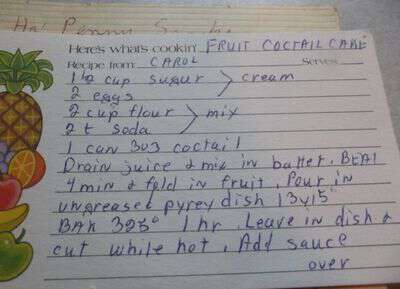 Drain fruit cocktail reserving liquid for later use.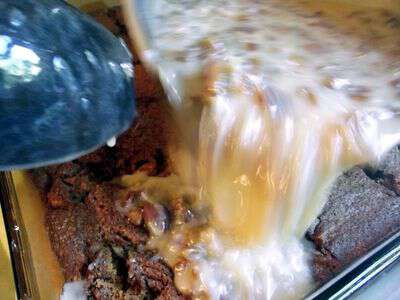 Cream sugar and eggs; mix in flour and baking soda; add reserved liquid mix for 4 minutes.
Fold fruit cocktail into the batter.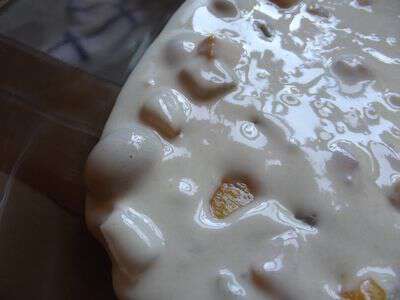 Pour batter into an ungreased 13 x 9 baking dish. Bake at 325 degrees for 1 hour.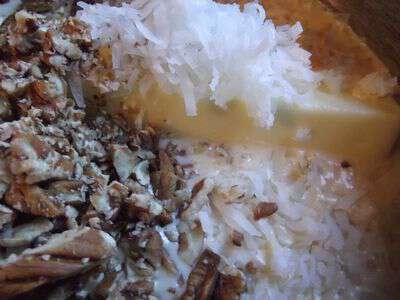 When cake is almost done, make the sauce by adding all the sauce ingredients into a pot-bring mixture to a boil and boil for 5 minutes.
As soon as the cake comes out of the oven-cut it into squares and then pour the hot sauce over it evenly.
You're supposed to let the cake set for a good long while so it soaks up all that gooey goodness, but we can never make it that long!
The Fruit Cocktail Cake is very very good. And I love that you can make it ahead of time and it'll actually be better the day after you make it! I plan to take it to any gatherings I get invited to in the future.
Have you ever had fruit cocktail cake?
Tipper