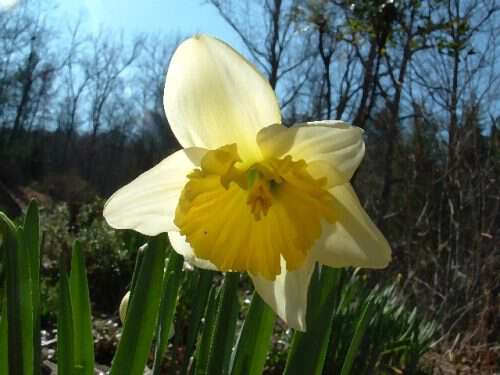 When the Daffodils began to bloom, I know Spring has arrived. Over the past week I've noticed Daffodils blooming everywhere, in my yard, as well as along the roadsides.
Each spring, I ponder the Daffodil blooms I see in fields or in wooded areas, in other words blooming in the middle of no where yet sending out a strong and mighty signal that someone once lived there.
I recently read an article on the history of Daffodils in America. The first settlers of the north east brought the tiny bulbs to the new world. Women sewed the bulbs into the hems of their dresses in an effort to bring a little piece of their past to the future that awaited them.
I see Daffodils bloom on the road leading to my home. I know they were planted by my Mamaw or maybe even by her Mother-the flowers have out lasted them both.
Down the road, a shower of Daffodils bloom on the bank beside the road. Pap tells me my great Aunt Dude and Uncle Ot used to live in a little house there, but as long as I can remember it's only been a bank.
Farther down the road, a massive amount of Daffodils bloom inside a cow pasture. Pap tells me when he was boy there was a store there, but as long as I can remember only cattle have frequented the spot.
Daffodils are such bright hopeful harbingers of Spring to me, but obviously I'm not alone in my feelings. The ladies who thought enough of Daffodils to sew them into their dresses, they knew the power of hope and renewal that occurs each spring. I believe all Daffodil planters of the past knew something about it too.
Tipper
p.s. Granny calls Daffodils-Jonquils. Anyone else ever heard them called this?