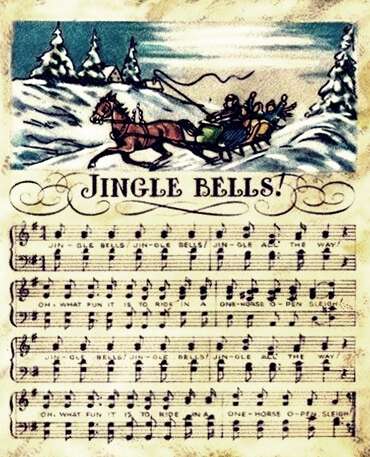 Jingle Bells is one of the most popular Christmas songs. It has a peppy tune, fun lyrics, and brings a feeling of Christmas cheer to most folks when they hear it.
The story of how Jingle Bells was born is fascinating. One of the most interesting aspects of the history being-the song wasn't even written for Christmas.
James S. Pierpont wrote Jingle Bells in 1840. Pierpont's father was pastor of a Unitarian Church in Medford, Massachusetts. Since Peierpont was naturally musical he often helped his father with the choir.
In those days, Thanksgiving was the most important holiday in the area and Peierpont was given the task of writing a special song for the Thanksgiving service to be held at church.
As James Pierpont pondered his job he watched a group of people sledding outside his father's house. Peirpont went outside to watch the festivities at a closer vantage point and began to remember the times he had participated with his own sled. As the sled bells jingled he became totally engrossed in who had the fastest sled.
When Peierpont went back inside a tune came to him that seemed to be exactly what he needed for his Thanksgiving assignment. He ran to the house of the only piano owner in town and there worked out the song. After returning home he quickly penned the words we're all familiar with today to fit the tune.
The assignment was given high marks at the Thanksgiving celebration-so high that the members clamored for the song to be part of the church's Christmas celebration as well. Attendees of the Christmas program took the song back home with them and taught it to people they knew. And when Peierpont moved to Savannah, GA he took the song with him finally publishing it in 1857.
An instrumental version of Jingle Bells is on Pap and Paul's Songs of Christmas cd.
Give it a listen:
I hope you enjoyed the song-bet you couldn't resist tapping your toes!
If you're interested in purchasing one of Paul and Pap's cds- Songs of Christmas you can jump over to the Blind Pig & the Acorn Etsy Store and pick one up.
Tipper
*Source: Stories Behind the Best Loved Songs of Christmas by Ace Collins