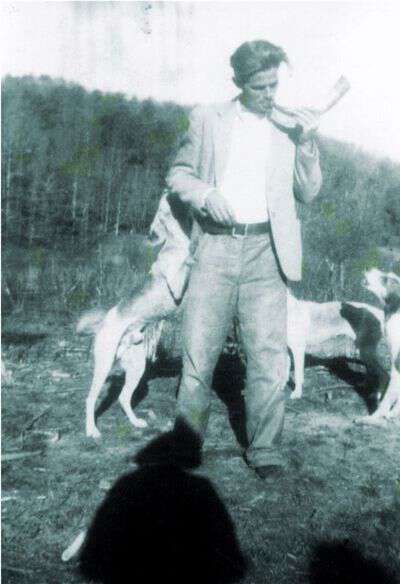 Papaw Wade Wilson blowing his fox horn surrounded by his dogs.
———————
Fox Hunting written by Charles Fletcher
In the mountains of Western North Carolina it was natural that the oldest son would learn about guns and know how to hunt when he was the age of ten to twelve. His knowing how to hunt would help supply the meat for the family table. I was one of those boys.
I was about that age when I first started hunting squirrels, rabbits, and pheasants. I had heard of fox hunting but had never been on a fox hunt.
One day I heard dad talking with two of his friends about going fox hunting. His friends, Dave and Joe, always kept dogs that were called fox hounds. I asked if I could go along on this hunt with them. "Sure, be glad to teach you if Fletch will let you go" Dave said.
It was all set. The fox hunt would be this coming Saturday night and I was invited.
About five o'clock on Saturday evening I was in the A-Model with Dad headed to Dave's house. Joe was already there when we arrived. There was three dogs in the truck seat of Dave's truck. Sally, Nell, and Old Red was their names and they belonged to Dave.
Each hunter, except me, began to load the sack they had brought along. We were soon on our way up the road to Beaverdam Mountain. Dad and me in the a-model, Dave and Joe in the truck.
We went up an old logging road as far as they could with the cars and parked. Dave was leading his dogs, Joe and Dad carrying the sacks. I was having a pretty big job just keeping up with the hunters.
Finally we arrived to a flat field at the top of the mountain. I could see that there had been others there from the big circle of rocks that was used for the fire. Also someone had left a big pile of wood for us to burn.
Dave turned the dogs out and the sacks with what ever they had brought was set by the circle where the fire would be.
"Where are our guns?" I asked the hunters. "Guns, that's a bad word. If someone should kill a fox they would "Blackballed" the rest of their life." I decided not to ask any more questions, just watch, I said to myself.
Joe was back from the spring on the mountain side with a soco lard bucket full of water. He put it on the fire that was burning in the circle, took some coffee out of the sack and dumped it in the water. This would be the coffee for the night.
Everyone had claimed their favorite place to set around the circle where the fire was burning. Dave raised his head up with his hand around his ear. "Listen" he said "there goes Sally, and Old Red is joining in."
"WHOOP-EE, GO GET EM". Dave said. "Ain't that the prettiest music you ever heard?" "SING TO HIM." Joe hollered.
"I'm a little thirsty." Dad said. Out of the sack came a half gallon fruit jar. I was thinking this was water for us to drink but after Dave, Joe, and Dad passed it around they didn't offer me a drink. It didn't take me long to figure it out what they were drinking. I could smell it all the way across the fire.
All three of the dogs were barking as loud as they could and the hunters were hollering about what pretty music that was. To me it only meant that three dogs were trying to catch what I guessed was a fox.
I went in the trees close by and gathered me some cedar limbs and made me a bed on the back side of the fire. I was getting sleepy. I was soon asleep.
It was getting day light when I woke up. I looked around and there was the three fox hunters sound asleep. Laying by was the half gallon water jar, "empty". All three of the dogs had found them a bed and were sound asleep too.
Every one was soon awake, dogs loaded in the truck, sacks loaded and we were down the mountain headed back home.
This was my first fox hunt. And my last trip listening for some dogs run just to hear them bark.
It was fall season here in the mountains. All the nut bearing trees were loaded with nuts for the animals that lived in these mountains. To me it meant "squirrel hunting time". I was nearly twelve years old and ready to go.
I got out of bed while mom was cooking breakfast for the family. She had started the cooking especially for me because I was going squirrel hunting. This was the first hunt this season. I had me a place staked out on Clark Mountain. There was a large grove of hickory trees and they were loaded with nuts. I would have to fight them off I told my mom.
The five thirty morning whistle at the paper mill was blowing when I was leaving the house headed to the cove on Clark Mountain. I had made this trip many times before and knew exactly where the trails were. I wanted to be there before the squirrels started feeding. I found myself a good place on the side of the ridge where I could see all over the hickory trees.
It was nearly day light. I was sitting very quite when I heard something moving in the leaves down the holler from where I was setting. I strained my eyes and finally located what was making the leaves move around. There walking up the trail leading to where I was setting was an animal I had never seen. Or at least I didn't recognize it.
A few days early there was talk of seeing a panther in our part of the mountains. I began to picture all kinds of wild animals coming straight to where I was setting. I pulled the hammer back on my eight gauge shot gun, raised it to my shoulder and sighted it straight at what ever was coming to get me. I had decided that I wouldn't let him get too close to me. The more I looked the bigger that thing got. I decided that this was long enough. I took a good sight, pulled the trigger, "BANG". There was a blood curdling scream, flopping and kicking and then every thing became quiet.
I put another bullet in my old shot gun, got up and started walking very slowly down the trail to see what I had shot. I took my foot and turned whatever it was over. There it was. The largest gray fox I had ever seen. I kicked him a few more times to see if he was dead.
With the gun shot and me moving around all the squirrels were gone. I asked myself "What can I do with this beautiful animal?" "I'll take it home and sell it with the rest of the hides." I said.
I took some small rope from the pocket of my duck back hunting coat I always wore when hunting. I tied the foxes feet together, hung him on my shoulder and headed for home. I stopped at the wood shed and laid the fox down and hollered for my mom to come out. She come to where I was standing by the fox. "Look what I killed" I showed her. I told her "Guess I'll skin it and send it along to sell with the possum hides I have."
"Better not let these fox hunters know you killed a fox, no telling what they would do to you." My mom said.
No one ever found out that I had killed a fox. I skinned it and shipped it to sell along with the other hides I had nailed on the side of the wood shed.
This was a "Real Fox Hunt".
Charles Fletcher
10-1-2011
———————
I hope you enjoyed the guest post! Charles has seen many changes since 1935 when this story took place in western NC.
I once read fox hunting was 99% getting away from the house-I think Charles's story supports that statement
Tipper