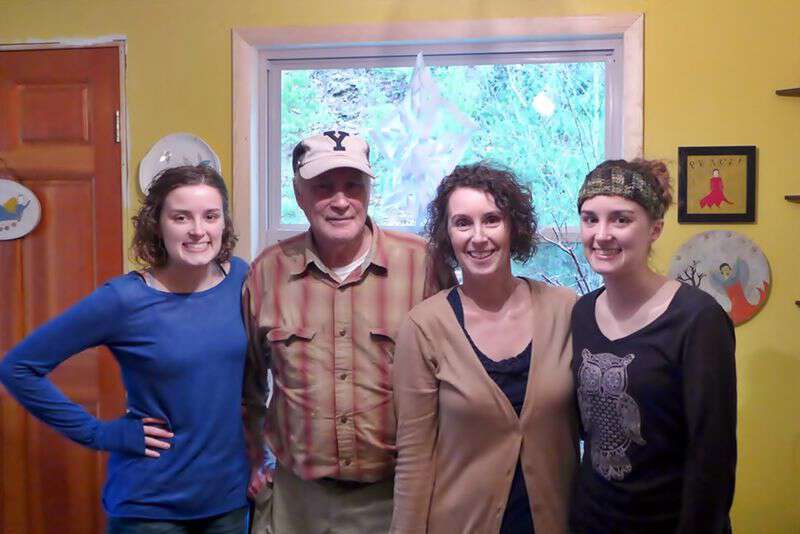 Chatter, Pap, Tipper, Chitter – January 2016
It's only been about a year since I posted the song He Whispers Sweet Peace To Me.
On August 24, 1872 Will R. Ramsey was born in Texas. During Ramsey's early childhood, his family relocated to Arkansas. Once Ramsey was old enough, he was musically trained and eventually became the owner of Central Music Company. Ramsey is a noted songwriter and published song books for close to 30 years. The most famous song penned by Ramsey is He Whispers Sweet Peace to Me.
In the video I shared of us doing the song back in January of 2015 Pap and Paul handled all the vocals on the song. Sometime after we videoed the song Pap suggested we try a trio of harmony much like we did on Where No One Stands Alone.
Wow the trio sounded good! We'd get the song down pat and then someone would come up with a new idea for it. First Paul sung all the verses, then each of them sung a verse, then we switched to Paul singing 2 verses and Pap singing one with a trio of harmony on the last 2 choruses. And then just for good measure we threw in a key change!
Every time we played our new version of He Whispers Sweet Peace To Me Granny would say "That is good!"
Part of our inspiration for the song came from a group of men Paul found singing the song on Youtube. They are the Silver Trumpets and man can they sing.
The Silver Trumpets have fantastic harmonies, but I think what makes their singing so special is that their happiness shines brightly right through the words. Pap said "Now they're singing it like they mean it."
The first line of the song: Sometimes when misgivings darken my day and faith's light I cannot see I ask the Dear Lord to brighten the way 
Unless you've heard me talk about the blog in person, you've never heard me say that the Blind Pig and The Acorn was born out of a rough, rocky, dark patch of life, but it was. So dark that just like the song says, I could not see.
The Blind Pig and The Acorn gives me great pleasure. I've fully known and understood that for many years. But since Pap died Paul has pointed out the Blind Pig and The Acorn, something so good and lasting, came from great heartache and sorrow.
Indeed, my journey was brightened in a way that I could never explain because of this blog and Pap's family has been blessed in the process.
With the help of Blind Pig and The Acorn readers I have:
Achieved measurable success in my endeavor to celebrate and preserve my rich vibrant Appalachian Culture and Heritage
Had my days enriched by the comments you leave
Made friends from all around the world
Documented my life for my daughters and anyone else who might be interested
Recorded 100s of songs by Pap, Paul, my nephews, my daughters, and myself
Documented many of the stories Pap told me
Gained tangible wealth in the form of: seeds, vinegar, onions, squash, black walnuts, a walnut cracker, artwork, seeds, vinegar, onions, squash, a walnut saw, artwork, ground cherries, books, beloved books, photos of their family, photos of my family, apples, baskets, antiques, craft supplies, foxfire magazines, cookie cutters-pig and acorn, rings, stone ground cornmeal and grits, a hammer, old jars, old bottles, music, information, writings, cast iron pots, soap, honey, woven treasures, cds, hand forged crosses, poems, quilted pigs and acorns, jellies, jams, pickles, recipes, and on and on and on. Blind Pig readers are a generous bunch of folks
Thank you for reading what I write, for listening to what we sing, for helping me with my Appalachian endeavor. Without you there'd have been no reason to film all those videos like the one above, there'd have been no reason to ask Pap and Granny a million questions about the old ways and their lives.
I am rich beyond measure.
Tipper
*Source: GMA Gospel Music Hall of Fame