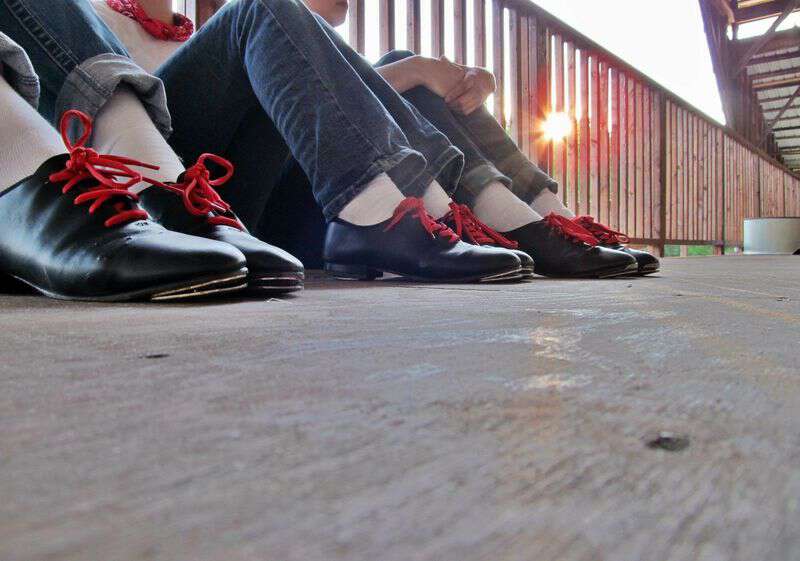 I was thinking about how I wish I could take all of you along with me to the festival today and tomorrow. Most of you live way too far away to even remotely think about coming, but I still wish you could experience it with me.
Since teleporting you all to Brasstown wasn't an option I decided I'd share a video of what the girls will be doing today at 1:20 p.m. – clogging.
Before the festival the team has its final practice at the folk school on the festival barn stage where they will actually be dancing during their performance.
Most folks are more familiar with the fast bluegrass type of clogging than the style the girls are doing in this routine. The Kudzu Kickers do a variety of clogging styles within their performances and this one is a Waltz Clog. They also do plenty of the more common style of clogging and buck dancing. Sometimes I wonder how they move their feet fast enough to keep up, but they always mange to pull it off.
Chatter and Chitter are the couple in the middle of the line. Chitter has a green shirt with writing on it and Chatter has a black shirt.
Jo Kilmer and Blind Pig Reader Gayle Larson are the coaches of the Kudzu Kickers-they both do a great job and I so appreciate them! You can see Jo in this video-she is the first in line nearest the camera with pants and a pink shirt on.
This group of five girls have danced together for years. Chatter and Chitter are the oldest of the bunch. When they all started clogging together back in the day the other girls were little enough to carry around on your hip and Chatter and Chitter weren't much passed carrying themselves.
Us moms always laugh about how we can't help getting teary-eyed as we watch them dance. It's like our own private mom joke on each other.
This year it seems I've been more teary-eyed than usual. I might feel more emotional because Chatter and Chitter haven't gotten to clog as much since they started college or it might be because of their recent birthday-leaving me with two adults instead of two girls.
But I believe my emotion comes from seeing five girls who through the years of clogging have grown into beautiful young women who are kind, smart, and generous. AND who've spent all those years keeping the folk dance of clogging alive even though doing so never made any of them the popular kid at school.
I hope you enjoyed seeing a little bit of what the girls will be doing at the festival today. Drop back by tomorrow for sneak peak of that day's performance.
Tipper