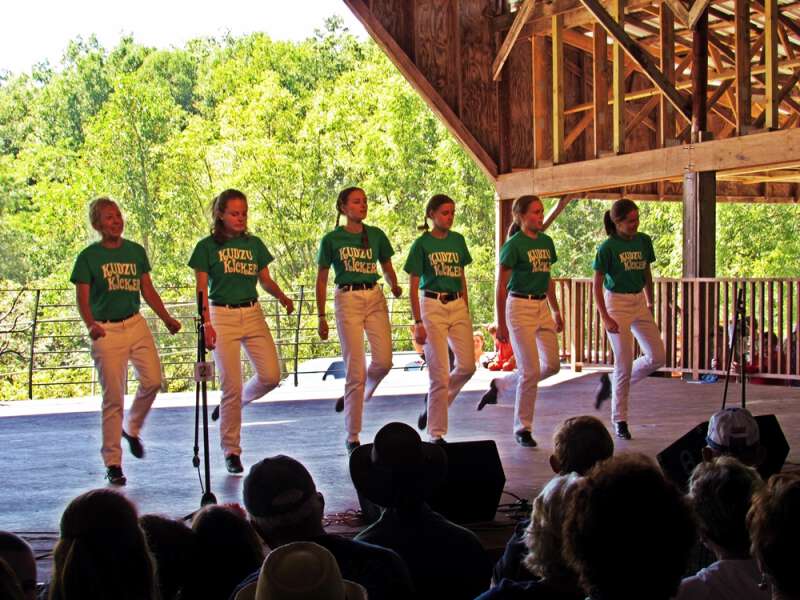 At 2:00 p.m. today The Pressley Girls will be performing at the John C. Campbell Folk School's Fall Festival on the Festival Barn Stage. Yesterday was a great day for a festival the weather was perfect and as usual the artists, crafters, and performers out did themselves-we had a great time and I do believe everyone else that was there did too! I enjoyed seeing more than a few Blind Pig Readers and I so appreciate them taking the time out of their day to spend a few minutes talking with the girls and me along with a few other nice things they did for us.
The girls will be doing In The Garden during their set today. The video below was filmed at the Folk School during a concert back in June. They've been doing the song for a good while now. In the beginning Paul and I played along with them, but over time we realized just the one guitar and their two-part harmony was all it needed.
My favorite part of the song is at the end of the third verse that they sing together. I love Chitter's high sweet voice on the word calling. If Pap could hear me say that he'd say "Yes but Chatter's voice below it helps-it takes both voices to make it sound like that. That's what harmony is." And he would have been right, but mostly he would have been trying to encourage both girls equally. Pap was an encouraging person. Whether he ran across an old friend who was down on his luck or a kid he'd never met before that was trying to throw just the right curve across home-plate he had an encouraging word to share with them.
For those of you who can't attend, I hope you enjoyed a peek into today's fall festival and for those of you who do come, I hope you have time to say hello to us.
Tipper