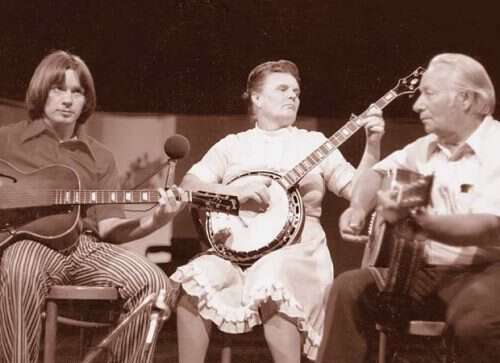 I discovered the music of Ola Belle Reed about 6 months ago. How I missed her all my life-I'll never know. One afternoon when I picked the girls up from JAM (Junior Appalachian Musicians) they had a cd of Ola Belle's music. Their teacher, JD, had sent it home for them to listen to.
Curious about what music he wanted them to hear-I popped it in the cd player. From the first song I was mesmerized. More than that-I was totally connected. The music felt like home-it felt like me.
Ola Wave Campbell was born in Ashe County NC in 1916. During the tough depression years, Ola's large family moved north to Maryland where there was fertile land to farm and more work to be found.
There was musical talent on both sides of her parent's families. So it seemed only natural that Ola Belle would make music too. Over the years, Ola Belle was honored by The Smithsonian, The Library of Congress and The University of Maryland for her musical contributions.
I tried to figure out why Ola Belle and her tunes comforted me in an uncanny sort of way-I mean I'd never heard of her before so what could it be? One of the first reasons that came to mind was the prominent guitar picking in most of her songs. Not all old time or bluegrass music feature flat top picking-and since I come from a family of guitar pickers the songs that do always standout to me.
There's an undertone of strength to her music. Even the songs about despair-have a strength to them-almost a rebellious defiant feel. But I'm not sure defiance is the right word-perhaps it's more a self awareness or knowledge that the world and all it holds resides in each of us if we'll only look.
When I think of those undertones being why I identify with her music I find myself asking: Am I a prideful rebellious person? Do I kick against the prick? And I have to answer yes. Not in a radical way of arguing with every authority I run across or having to win every argument I hear or even having to offer my opinion to people I come in contact with. It's more of a quiet fierce strength that lives deep inside me-and my people. Living with the knowledge that life is not only unfair-but sometimes down right mean. Knowing that the only life you have is the one you're given and it's your choice as to what you do with it.
I've read the words above-my thoughts on Ola Belle's music, more than a few times-and even though I truly feel that way-I must admit what I've written sounds silly.
The reason we love music is the way it makes us feel right? I can be so moved by Ola Belle's tunes that I connect the emotion I feel to some higher meaning of strength and survival-while you may give her a listen and think to yourself "Tipper is crazy-all I hear is a bunch of old songs."
After listening to J.D.'s cd for a week-I got my own cd of Ola Belle Reed-and as the weeks passed I drove around listening to it-letting her music tell me the story it was meant too. Besides the screen door slamming, barefeet, guitar picking on the porch, we will survive tale each song wove around my body-there was one more story that I kept coming back too. The one about the boy and the girl back in the mountains. Come back in a day or so and I'll tell you that story.
Tipper