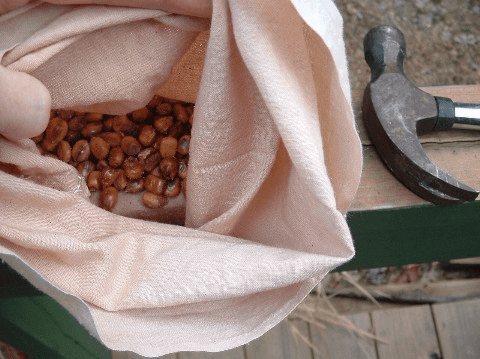 Two weeks ago I showed you how Pap taught me to make gritted bread from fresh corn and last week I showed you how Pap taught me to parch corn. Today I'm going to show you how Pap taught me to make gritted bread from parched corn.
As you can imagine parched corn would be hard to eat if you had bad teeth or were lacking a few. Pap said folks would grind or pound parched corn into a very coarse cornmeal and make gritted bread or cornmeal mush with it.
Since we didn't have a grinder Pap told me to put some of the corn we parched in an old flour sack and beat it with a hammer. I'm telling you beating that parched corn was hard work. Even after repeated hammering the cornmeal was still very coarse.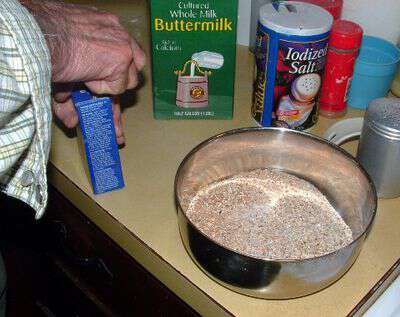 On the day Pap was showing me how to make gritted bread from parched corn, I ran out of daylight and ended up with barely enough meal to make a cake of bread, but Pap mixed it up for me anyway. He added buttermilk, salt, sodie, an egg, and a little oil to make a batter.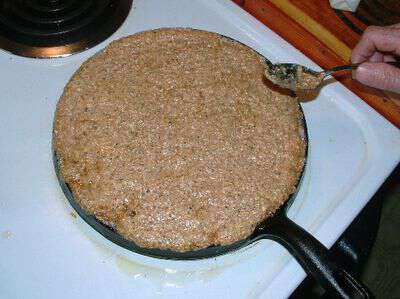 Since we ended up with such a small amount, Pap decided to use his cast iron spider pan. He heated the pan on the stove and then after the batter was poured in it we baked it in a hot oven.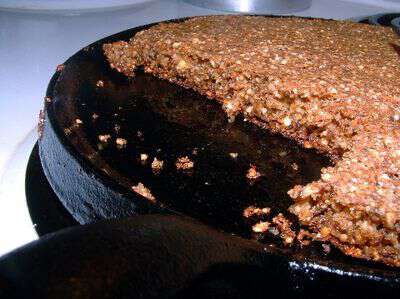 Did I like it? Not really. It tasted a little like hominy which I do like, but I just couldn't get over the texture of it. I suppose if you ate it all the time you'd become accustomed to the taste and texture, but it might take awhile.
As I knelt outside in the cold, pounding the corn with dark coming on fast the old saying idle hands are the devil's workshop came to mind. When I went back in the warm house, I told Granny, "I can see why there wasn't as much meaness going on when you and Pap were children. It took so much time for folks to make sure they had enough food, water, and wood that they didn't have time to be mean."
Granny said "Yes you're right, that is true, that is the way it was. It took all our time to keep food on the table, water in the buckets, and wood in the stoves. And it makes me wonder if the ease at which we live life today is for the better." Granny may have a point.
Tipper