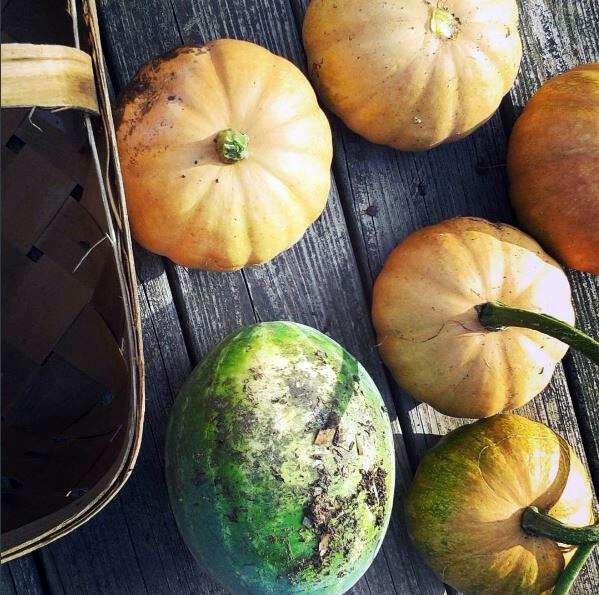 1. I think I've harvested the last of the Seminole Pumpkins. I say I think because they did so good for us this year that I keep finding them hiding in the weeds. Blind Pig Reader Sheryl Paul generously shared the pumpkin seeds with me and boy am I glad she did.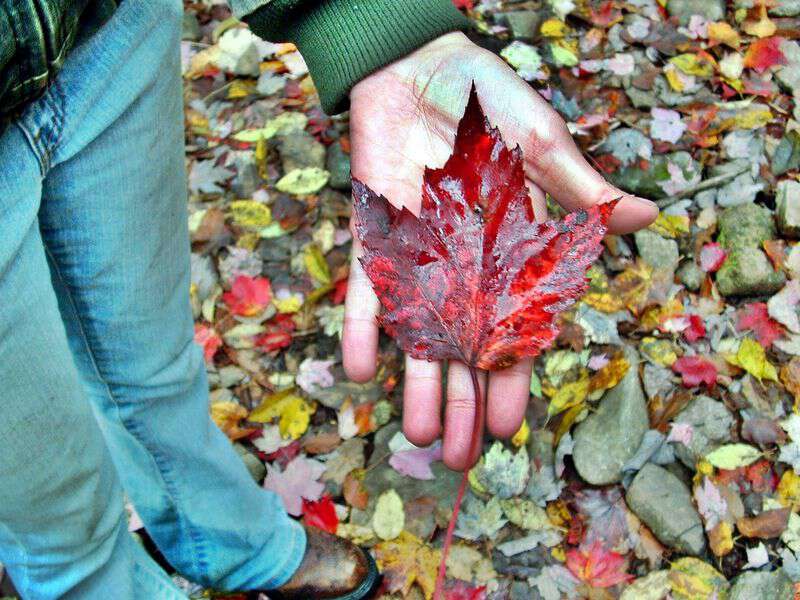 2. Remember last fall when John Parris taught us to catch a falling leaf to be free from colds all winter? Well I didn't even have to try this fall. I was walking to my car after visiting Granny and this small leaf floated down around my head and curved right into my hand almost as if someone placed it there.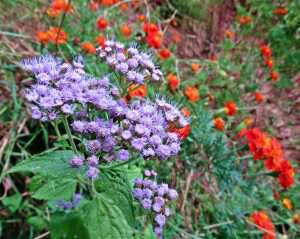 3. Granny has grown blue ageratum for as long as I can remember. It was one of the first plants she shared with me when I planted my own flowers, so I have it growing around the yard too. It's never really been one of my favorite flowers. It isn't that showy and probably most of my dislike for it comes from the time of year that it blooms.
By the time the ageratum blooms summer is so overgrown I'm ready for cold weather and a hard frost to push everything back. I had never wondered where Granny got her start of the plant, but the other day she told me the story.
She said when her and Pap only had Steve they lived in a house they rented from the Kings in Murphy. Pap's mother, Marie, would come to town and baby-sit Steve while Granny worked. She said the Kings had blue ageratum growing in their yard and Mamaw Marie asked them for a piece of it. Mamaw brought it home to Brasstown and got it established. Years later when Pap and Granny were able to build their own house up the road from Mamaw Marie she shared her blue ageratum with Granny. Granny said "She shared it with me because after all she probably would of never had the flower if I hadn't begged her to come and keep Steve for me." I told Granny "Now that I know the story I'll never again be able to pull up my blue ageratum with such abandon no matter where it spreads.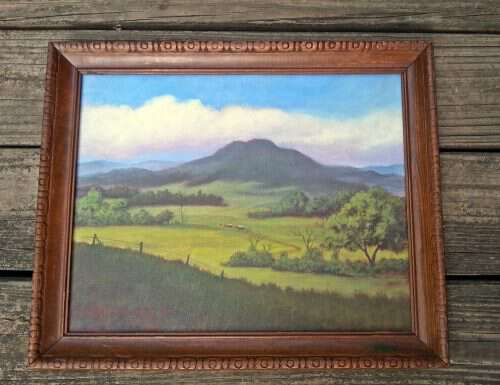 4. John Mac Kah is an amazing artist who is based in Asheville NC. He also teaches his craft to others. Back in the beginning of the summer the girls did some volunteer work for the John C. Campbell Folk School. One of their duties was to weed the beds outside of the art studio where John was teaching a class. Over the course of the week the girls got to know John and the other folks in the class. Each day Chitter would look at a painting John was working on to see what progress he had made since the day before.
Pap and Chitter had a common love of westerns. Often they talked about the books Chitter was reading and about Pap's favorites that he'd read over the years. One of the last books they talked about was Zane Grey's Lost Wagon Train.
One day as Chitter checked on the progress of John's painting she mentioned that she thought the scene look like it ought to be in a western. She went on to tell John about losing her Pap in the Spring and about the common love of westerns they shared.
Chitter didn't see the painting again util the last day of the class. As the students and instructors across campus were gearing up for the show and tell event that concludes all folk school class weeks, John showed Chitter the finished painting. She couldn't believe her eyes-there in the middle of the painting was a wagon train. She was tickled pink that he took her comment about the scene looking like it should be in a western to heart and added a wagon train.
She is still thrilled, humbled, and honored that he gifted her the beautiful painting in memory of her Pap-a man he never even met.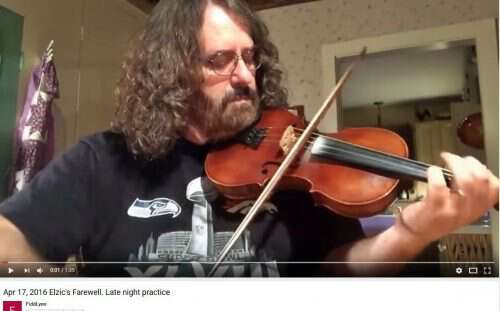 5. Even though I only stumbled upon it recently, I've pretty much fallen in love with a song called Elzic's Farewell. Go here to hear the song played by Lynn Shaw who is an amazing fiddler and a friend. I've already put my request in for Chitter to learn it so I can hear it any time I want to.
Tipper