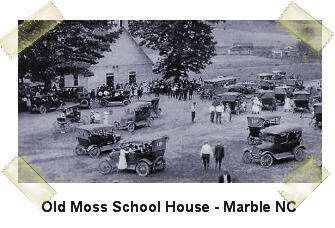 Photo from Marble Spring Baptist Church
Marble – written by Wanda Stalcup
During World War I, three iron ore mines were reopened. Anderson G Betts owned the mines. Iron ore washers were set up in different locations. The ore was shipped to Philadelphia. Jeff Hayes, Glen Farmer and W J Barton were supervisors. A T Dorsey Lumber company built a flume from Snowbird Gap to Marble. The flume carried lumber into Marble for many years. The Big Cove Lumber Company owned and operated by R E Dewar hauled lumber from Vengeance Creek. Claude Angel, Wendell Lovingood and Dee Kimsey were three of the many drivers for the company. I have the ledger (Bonnie Cole gave me) of the Union Lumber Company. During the depression in the thirties several people depended on the sale of wood, tanning bark and cross ties for an income. Therefore many of the people suffered and endured a lot of hardships.
Marble once had a cheese factory owned and operated by Bail, John, Ernest Palmer, Oce Powell and Nelson Almond. John Palmer went to Wisconsin and bought two car loads of Holstein cows and rode back with them in the freight train.
Morgan Kikpatrick operated a grist mill, sawmill and talc mill for many years.
Later Frank Coggins established the Columbia Marble Company. Early merchants in Marble were A B Smith and Leland Coffey. Later businesses were Noah Abernathy, Ben Mintz, Jim Bryson, WJ Barton, Matte DeHart and Arthur Palmer. The streets at Marble were once made of Marble.
In the fifties I remember Pa trading at Arnold Bryson's and Edna Palmer's stores.
On June 16, 1873 Marble Springs Church was organized under the sponsorship of the Valley River Baptist Church at Andrews NC. The elders were T A Higdon and A Ammon. Joseph A Kimsey was elected clerk and served for thirty years. Henry Moss donated the land for the Moss Cemetery at Marble. Later Robert Hannah, W J Barton, Ben Mintz and and Ross Newman bought additional land to add to the cemetery. The fist people buried there are located at the top of the mountain near Henry Moss's grave. Some of the early graves have rocks for the head stone but were replaced with pieces of Marble and a lot of people can't find some of the old graves.
Marble Spring Masonic Lodge Number 439 was instituted April 21, 1891. My great-grand father John Rowland was a Mason. He is entombed at Mt. Zion Baptist and the Masonic symbol appears on his tombstone. H A Gudger, North Carolina Grand Master, inducted several men from the Marble area into the Masonic Lodge.
Henry Moss donated land for the first Marble school and it was called, Moss school. It was an elementary and high school. It was located about one mile east of Marble.
———
I hope you enjoyed Wanda's description of Marble NC's early days. I can't imagine a cheese factory in Marble and I never knew they used Marble for the roads-how cool is that! I wish I could have seen the flume-that must have been big doings for sure.
Wanda is the Director of the Cherokee County Historical Museum. She knows more about the history of this area than anybody I know. A few years back she wrote a book "How I Saw Cherokee County". The book is full of wonderful stories, customs, traditions, and language. If you're ever in Murphy you can pick up one of her books at the museum.
Tipper
p.s. You can catch The Pressley Girls next weekend at the following festivals: May 26, 2018 @ 1:45 p.m. Swain County Heritage Festival – Bryson City NC and  May 27, 2018 @ 1:00 p.m. Arts, Crafts, and Music Festival – Blairsville GA
Subscribe for FREE and get a daily dose of Appalachia in your inbox