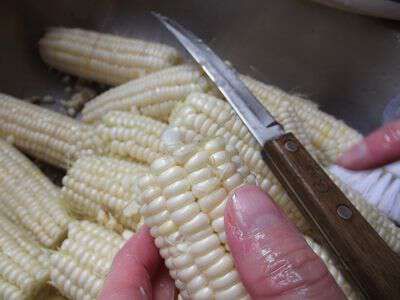 Glorious Corn! Civilization as a whole could not survive without corn. The early settlers of Appalachia depended on corn for food, fodder, beds, dolls and even for use in the outhouse. In the early days, most Appalachians would have eaten corn, in some form, 3 times a day. Sometimes we still do.
Nothing is finer than fresh corn. By the end of the growing season, Pap's garden is wiped out, not leaving enough corn to put up. For the past several years The Deer Hunter has returned to the big mountains of Haywood County, were he grew up, to get our "putting up" corn. Each year we all agree-it's the best corn we've ever eaten. Barretts Farm lies along a portion of the upper Pigeon River-maybe the corn is so good because it's irrigated with river water-I'm not sure-but the corn is unbelievably delicious and beautiful.
Everyone pitches in to help on corn day. Chitter and Chatter are good shuckers.
Even Ruby Sue gets in on the action. Nothing goes on at our house without Ruby being in the middle of it.
With everyone working together the shucks are flying.
And the corn is piling up. The Deer Hunter is in complete control of the knife and warns Chatter and Chitter about how dangerous a sharp knife can be. Then Papaw calls.
While The Deer Hunter walks away to talk on the phone and I go to hang out clothes, Chitter decides she can use the knife to cut a bad place off an ear of corn.
Chitter should have listened to her Daddy.
The Deer Hunter and I both agree if the cut was on one of us-we would just wrap it up and let it heal on its on. But since it was Chitter, we took a quick trip to see if Pap thought the cut needed stitches. Pap said "why the emergency room would stitch up a chigger bite-take her home, clean it out good, wrap it up good, and make a splint for it and she'll be fine." So Dr. Deer Hunter took over. And Chitter….
Went to the couch, while the rest of us finished the corn.
Silking
Boiling
Cutting
Bagging
I have a scar on my thumb from putting up corn. Back in the day, when The Deer Hunter and I were dating, his family was putting up corn and I was helping. After I cut my thumb, I was so embarrassed, I acted like I had to go to the bathroom and went upstairs.
Once I was alone, I realized I had cut myself pretty bad and would need some help. I got up my nerve and yelled for The Deer Hunter to come up there for a minute. He walked in the door saying "You cut yourself" I said "how did you know?" he said "I followed the blood trail." So much for impressing his family. I left a blood trail through their dining room, kitchen, and up the stairs.
Have you ever injured yourself putting up sweet glorious corn or while canning/preserving food?
Tipper