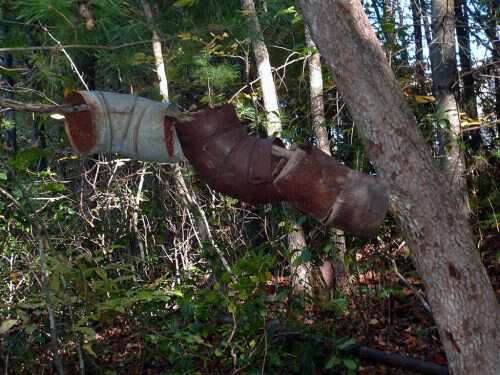 A few weeks ago I asked for requests for the Pickin' & Grinnin' In The Kitchen Spot. Today I'm going to share our first request- Carolyn A requested Hang Down Your Head Tom Dooley.
Tom Dooley is a song I've heard all my life, I can even play it on the piano. It's one of those sad down right mean songs about a horrible act-that still seems to draw me in for some reason. Appalachia abounds with lonesome sadistic songs about killing-almost always a girl. Some of the songs insinuate the girl broke a sacred trust. Most of the songs end with the killer getting what he deserves. I've often wondered why I like such songs. The sheer number of those songs and the popularity of them show I'm not alone in my strange attraction.
I'm not sure if the draw comes from a feeling of "there but for the grace of God go I", morbid fascination about death, or the satisfaction of knowing someone's life is worse than mine. Maybe it's because while I'm listening-I can vicariously live out a range of emotions-fear, outrage, despair, -then when the song is over, I get to go back to the sunshine.
As I began to research the story behind Tom Dooley I found some interesting info.
His real name was Tom Dula. The y sound being added in the way other Appalachian words have y's added (extry for extra, opery for opera, sorty for sorta.)
Dooley was a confederate solider who survived the war-although 2 of his brothers did not.
Dooley was a fiddle player.
The motive for the killing of little Laurie Foster resulted from a bizarre love triangle which included 2 of Laurie Foster's cousins.
Both Dooley and Ann Foster Melton (one of the cousins) were charged with the murder of Laurie Foster.
Right before Dooley was hung he gave his lawyer a written statement, which stated he was the only person responsible for the death of Laurie Foster.
The Kingston Trio released their version of Tom Dooley in 1958.
The trio won the first Grammy ever awarded to a country/western act.
Popularity of the song led to guitars outselling pianos in 1963-for the first time ever.
There are many different versions of the song which is typical of any song dating back to the 1800s.
There are some folks who believe Dooley was never hung-that at the last minute a vagrant, whose face was hid beneath a hood, was hung instead. Leaving Dooley to live a long life.
For more information on the history of Tom Dooley check out The Daily Yonder-The Murder that sold 10,000 guitars.
For this weeks Pickin' and Grinnin' Hang Down Your Head Tom Dooley.
Hope you enjoyed the song. Have you heard Tom Dooley before? Or do you have another sad lonesome song from Appalachia that you like? Leave me a comment I'd love to hear about it.
Tipper