Today's guest post was written by Shelia Parker Nelson.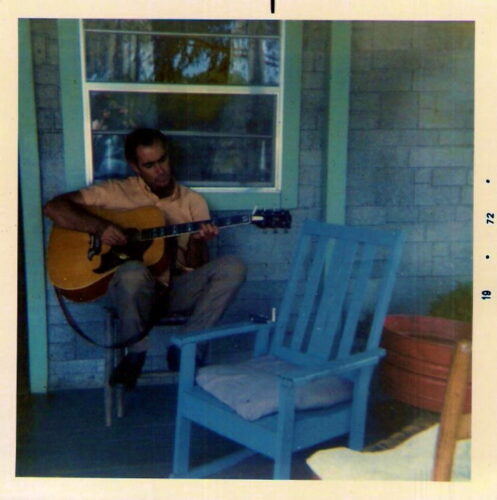 Pap on Granny Gazzie's porch
One of my favorite childhood memories is the memory of my family talking. My maternal grandparents had a comfortable, good-sitting front porch and my family gathered there every summer evening after the supper dishes were done. We'd walk to their house and soon my entire family was there-aunts, uncles, cousins and maybe a neighbor. The grownups would find a place on the porch, or on the steps, and they would begin to talk. We children would ride bicycles, climb my Mamaw's sweet-smelling mimosa trees, play ball or hide-and go seek and end the evening catching lightening bugs in the twilight.

As I grew older I would catch bits and pieces of the adults' conversations. I was fascinated by their stories, memories, jokes, and opinions and I would find myself leaving the play in the yard to listen to them talk.

Now that I am a grown woman I appreciate more and more the cadence, flow and dialect of their language. I have heard it called "East Tennessee Twang," but I call it my mother tongue. It is definitely not the slow drawl everyone associates with the South. East Tennessee Twang has bite and snap, odd sentence structure, and words you've likely never heard before. I fear that one day it will disappear, to be replaced by new and dull dialects made popular by modern media.

In my narrative "Talkin' on the Porch-A Narrative of my Southeast Tennessee Family's Porch Conversations," I have tried to capture the rhythm of my family's East Tennessee Twang speech pattern, in hopes that, years from now, if it does disappear, someone will read it and love it as much as I do.

"Talkin' on the Porch My Family's Porch Conversations Spoken in Tennessee Twang"
Written by Shelia Parker Nelson (Soddy-Daisy, Tennessee)

"Back thi'en I thought ever'body talked like us. I'd heard the same kind of talkin' ever since I's born, settin' on the porch in the ev'nins with Daddy'n Momma, Mamaw'n Papaw, Aints 'n Uncles, all talkin' 'n tellin' stories.

Us kids would play in the yard ketchin' lightnin' bugs, or ridin' aur bicycles aroun' the house. The grownups would set on the porchan' thay'd start talkin' an' thi'en thay'd all laugh. I'd ride my bicycle close to the porch an' I'd wonder what thay was'a laughin' at.
Well, the sun would start to go down over the mountain an' I'd ack like I was gittin' tard. I'd go set beside my Momma or Mamaw or one'a my Aints on the settee. I'd lay my head in thayr lap an' close my eyes an' listen to thi'em, an' I thought ever'body talked that away, rich an' hearty, funny an' wise.

"Thay was a snake in the outhouse, he took a hoe to it. Everwhat happened to thi'em people that lived up the road? Well, thay say she run off. He was a'burnin' a brushpile an' I run an' got my arn skillit to thow in it. I bin cleanin' winders all day. I'm a'goin' t'trade t'mar, do any of yuns need to go? Somethin's dead somewhurs, I c'n smell the kyarn.

Billy Graham's a'preachin' on the tv t'mar night. Thi'em Kennedys is Cath'lic. The truth'll stand whi'en the world falls! Reckon yuns'll come out on strike? George Wallace, the Gov'ner'a Alabama. We might could tare that part'a the floor up an'lay down some tongue n'groove. That shore was some good okree we had for supper. Martin Luther King Junyer, Thi'em long hay'erd Beatles is from Englan'. 

Hey kids! Yuns stay away from the road now, and don't be ridin' 's fast off'a that sidewalk!" I couldn't git to sleep last night to save my life, my piller felt like it was full'a rocks. He got two dollers in the mail today an' a note sayin' I'm sorry I stole yore dictionary whi'en we was in school, No it wadn't signed.

Wonst I found all my Christmas presents that Mother hid in the cellar, thi'en I told her ever'thing I wanted, ever'thing I found in the cellar t' make her feel good, an' she said 'you've been a'prowlin' ain'tche?' C'mere kids and getchuns a banana popsicle.

He dug a new toilet hole and the'im boys'a his'n jumped in the hole and played in it before he moved the outhouse over it. He went coon huntin' and somebody musta been tryin' to aggravate me while he was gone. It was dark outside and whoever it was was hittin' the side of the house, tryin' to skeer me and Mother. I opened the front door and fard the shotgun up in the air. Never did hear nothin' else the rest of the night." 

Sometimes the talkin' would stop an' it'ud git real still and quiet, 'cept for the whippoorwills an' nightbugs, an' I'd hear the family that lived up the road, settin' on thair porch, the night air carryin' thair laughin' an talkin'an' I reckon that was another reason I thought ever'body talked like we did, rich an' hearty, funny an' wise.

Then I grew up and found out right fast-like that I was wrong. I didn't hear many invitations to 'pull y'self up a cheer and set awhile with us'. And you're not likely to get anywhere much if you eat supper instead'a dinner, or say 'do ye reckon?' instead'a 'do you suppose?' and 'ya'll' is fine, but don't say 'yuns' or people will think you're ignert.

Leave your native tongue at home, rich and hearty as it is, you've got to leave it on the porch where it belongs and talk homogenized talk out in the world. It's as bland as unsalted butter, but it's acceptable and nobody will take you seriously if you spit out 'let's go over yonder.'' I'll be there dreckly' or 'how about a cole drank a'water?'

But those childhood days are like honey to me, smooth and golden. They ended with 'g'night, love yuns', a walk home in the dusky dark, and the beginning of the school year. They disappeared completely with cable television, air conditioning, decks, and the busy-ness of our modern lives. 

Grownups don't spend too many evenings talking and visiting with one another on the front porch these days. Children no longer play in the yard; they have playgrounds and play dates. We all have our own rooms, our own TVs, different sets of friends, and our own lives. But we've all got cell phones, contact lists and social media, So I reckon…..I mean, I suppose….that's what our children and grandchildren will be remembering in about fifty years time. 
---
I hope you enjoyed Sheila's post as much as I did. I remember with great fondness the same sort of conversations from my childhood.
Tipper
Subscribe for FREE and get a daily dose of Appalachia in your inbox