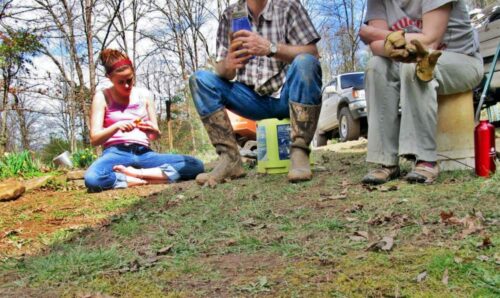 The Deer Hunter and I managed to get all the raised beds (except one!) cleared off and topped with compost a few weeks ago. Normally we wait till the day we're going to plant the first spring vegetables. I'm so glad we got the chore completed ahead of time.
In addition to starting our tomatoes we managed to plant a few early spring items in the garden.
We planted a few rows of onions and radishes, a small row of two different early spring peas, some lettuce, and a row of carrots. Its been ages since I tried to grow carrots but I decided to try them again this year. And we planted a few potatoes in grow bags.
It feels so nice to be outside in the fresh air and the early spring planting always makes me feel so hopeful for the coming garden. The insects haven't arrived yet and the weather usually cooperates which makes for stress free gardening.
I started my cabbage and a few beets indoors this year and will need to transplant them to the garden in the coming days. I've already moved them out to the greenhouse where they can get more light.
The peppers I started several weeks ago are doing well and I'm still hopeful they'll produce sooner for us this year since I started them so much earlier.
We purchased some fruit trees and canes from the local 4H and I'm anxiously awaiting them.
Chatter ordered two elderberries for my Mother's Day gift in 2020, but they never arrived. I was pleased to see the 4H list had elderberries so I ordered two. When Pastor Lon and his lovely wife came to officiate the wedding they brought me four elderberries they started from their plants so I'm going to have plenty of elderberries if they all make it.
We've had a few days of warm weather and sunshine. This evening I noticed a few volunteers had sprouted in one of our raised beds. The cold weather that's coming back this week will likely kill them before I figure out exactly what they are.
Last night's video: Sharing my Favorite Knives – In Appalachia.
Tipper
Subscribe for FREE and get a daily dose of Appalachia in your inbox