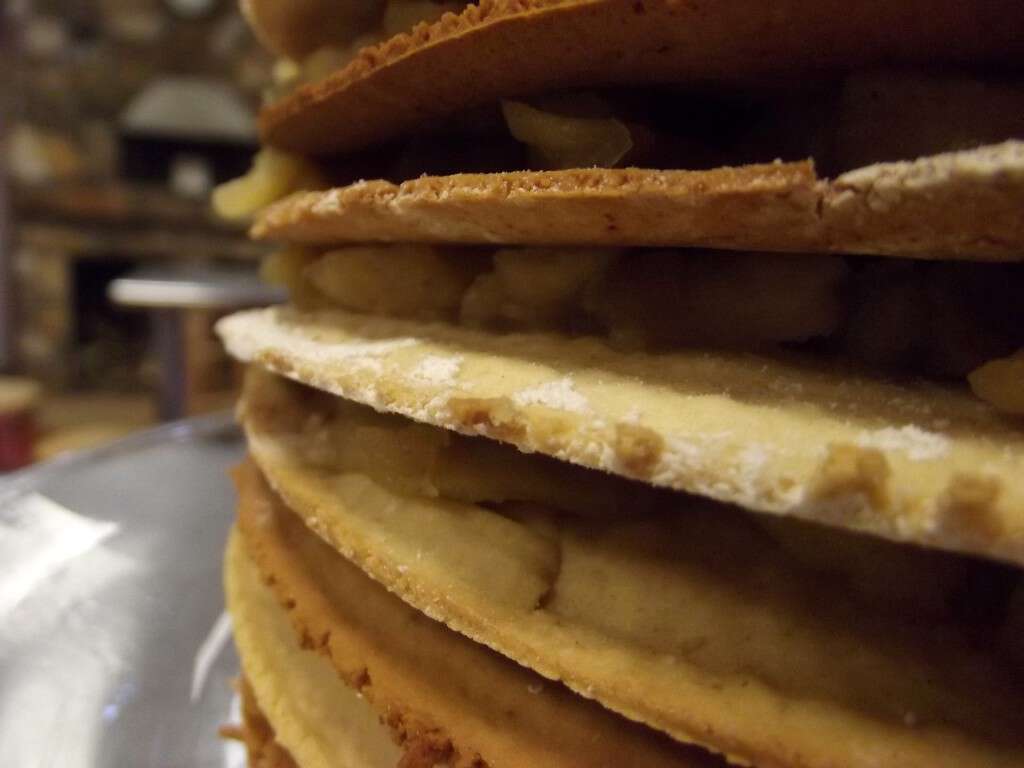 Freshly assembled traditional apple stack cake
I've heard about apple stack cakes my whole live long life-but I never tasted one until I co-taught a cooking class at the folk school. After making the cake in class, we also discussed the reasons why apple stack cake has become almost synonymous with Appalachia.
Fellow blogger, Dave Tabler covered much of the history on his great site-Appalachian History:
At holidays and weddings, early mountain settlers traditionally served stack cake in lieu of more fancy, and costly, cakes. Neighbors would each bring a layer of the cake to the bride's family, which they spread with apple filling as they arrived. It was said that the number of cake layers the bride got determined how popular she was.

Kentucky lays claim to originating the dessert via Kentucky pioneer washday cake. "Some food historians say that James Harrod, the colonist and farmer who founded Harrodsburg in 1774, brought the stack cake to Kentucky from his home in Pennsylvania," observes Mark F. Sohn in Appalachian Home Cooking: History, Culture, and Recipes. "While Harrod may have brought the first stack cake to Kentucky, the cake could not have been common until more than 100 years later when flour became readily available." Tennessee proudly points to Tennessee stack cake as the first, but in fact variations of the cake abound throughout the region.
On the website, GILT Taste, Stella Parks discusses an interesting phenomenon regarding the apple stack cake recipe. The first widely published recipe for the cake appeared in 1980-however historians know the cake has been around much longer than the year 1980. Regarding the absence of published recipes Ms. Parks wrote:
Some more digging in cookbooks, though, and I found that while apple stack cake may not have appeared in print before the 1980s, it may be in part because, like the brides who served it at their infares, it too changed its name. In those early years, it appeared in cookbooks everywhere under the guise of "apple short cake." Helen M. Robinson's The Practical Cook Book, published in 1864, describes apple short cake as a huge biscuit wheel, split in two and filled with stewed apples; a cro-magnon sort of stack cake, but still. By 1877's The Cultivator & Country Gentleman, Volume 42, it had evolved into two biscuit wheels, split, brushed with melted butter, filled with homemade apple jam, stacked, sprinkled with nutmeg, and served warm with fresh sweet cream poured over the top. (A preparation known in the trade as, "holy mother of yum.")

A decade later, the ghost of Alvin Wood Chase would push apple short cake toward its final incarnation. Chase, last seen elucidating the origins of red velvet cake, died three years before the publication of his Third, Last, and Complete Receipt Book and Household Physician, but in it he includes a "receipt" for Apple Short Cake. Where previous recipes for apple short cake revolved around simple buttermilk biscuits, Chase's "sweet short cake" contained both sugar and egg, marking the first step of apple short cake's transformation into a proper cake.
Ms. Parks also points out that while the recipe for apple stack cake wasn't popular enough to appear in a nationally published cookbook till 1980, it was published in literally hundreds of community or church type cookbooks from all areas of Appalachia over the years preceding 1980.
It only took one bite of the cake for me to understand the way people go on about apple stack cakes-it is beyond yum! But after studying the history of the cake, I do believe I'd like it no matter the taste-because I see it as a cake of true love.
Love because it symbolized a holy union between a loving couple.
Love because traditionally each layer was made with love by people who wanted the loving couple to get a good start on marriage.
Love because for years and years the recipe was saved and handed down from one generation to the next-even though the culinary world at large wasn't much interested in it.
Love because for generations the cake has defined not only marriages in Appalachia, but also Christmas, Thanksgiving, birthdays, and any other celebration you can name.
Tipper