When it comes to using a whetrock I don't have a clue. Fortunately, I've never needed to know how to use one because I've had whetrock experts around me my whole life.
The Deer Hunter can sharpen a knife like nobody I ever seen, well other than Pap.
The Deer Hunter said he first learned how to use a whetrock when he was nine years old. He was at deer camp and watched one of the men sharpen his knife.
Come Christmas The Deer Hunter asked for a knife sharpening set and he's been doing it ever since. The stone in the photo above is an Arkansas Stone and it came with the first kit he received that Christmas long ago.  He's sharpened on it for at least 4o years and it's not wore because of the density of the rock.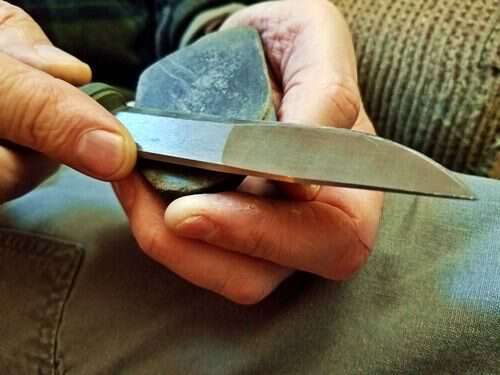 Pap always kept his whetrocks by his chair. I remember seeing some of his that were worn to where they swagged in the middle. In other words he believed in keeping his knives sharp and wore out whetrocks in the process of keeping them that way.
When The Deer Hunter and Pap thought they had a knife as sharp as they wanted it they both used the same test to see: if it was sharp enough to shave the thick hair on their arms it was ready to go.
Years ago Pap started using a rock from the creek as part of his whetrock arsenal. You can see the rock in the photo above. It's the only thing The Deer Hunter asked for after Pap died. Now he keeps it by his chair and uses it, just like Pap did.
Tipper
Subscribe for FREE and get a daily dose of Appalachia in your inbox