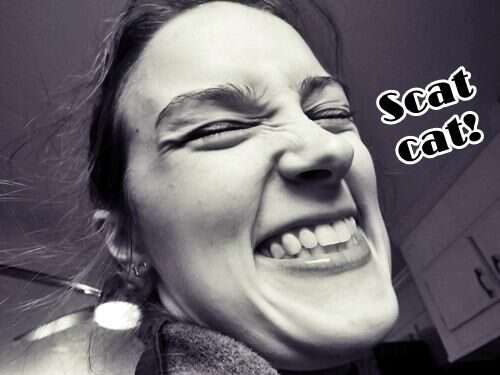 scat, scat cat interjection Bless you! (a response to another person's sneeze).
1983 Broaddus Kentucky Word List 54 = said to a small child upon his sneezing. 1997 Montgomery File Some people just said, "Scat, cat!" whenever anyone sneezed. They also said "Scat there." I'm not sure if I'm right in this perception or not but is seems that the "Scat, cat, get your tail out of my gravy!" was used more in familiar settings, as a mother to a child, etc. In my mind, men seemed to more often use the shorter version. I can still hear my grandfather saying, "Scat there!" when somebody sneezed . . . . I kind of associate the saying with the idea of a cat trying to get your food and rubbing his tail across your nose, making you sneeze. (55-year-old woman, Jefferson Co TN).
Dictionary of Smoky Mountain English
—-
I had never heard anyone say "scat cat" for a sneeze until I met Miss Cindy. She uses a version similar to the "get your tail out of my gravy" one mentioned in the dictionary entry. I've also heard her use "scat there" and just plain "scat" when someone sneezes.
Tipper
Subscribe for FREE and get a daily dose of Appalachia in your inbox