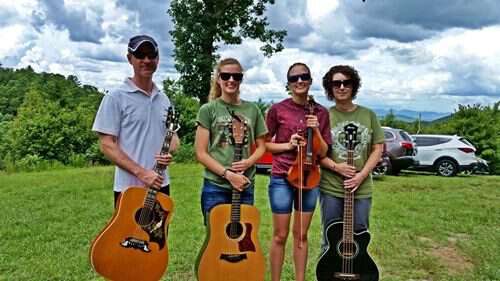 Paul, Chatter, Chitter, Tipper – June 2018 Martins Creek
These days The Pressley Girls get paid to play music. When you think about it there's no way the girls could travel around without being compensated for their gas and their time not to mention the money it takes to keep instruments in playing condition. But there are times we play for free.
The girls regularly play for the local Shriners as a way to support their great cause and we always play at least once a summer at Martins Creek Community Center to help them raise money to pay their electric bill.
Sometimes we play for free for something really special. Like the 82 birthday of a family friend. Playing on the top of a mountain with spectacular views surrounded by people who claim you as their own almost makes it seems like we should have paid them for letting us make music.
I'll leave you with the best quote of the day from the birthday man himself. "The only thing that would make this any better is if Jerry (Pap) was here too."
Tipper
Appalachia Through My Eyes – A series of photographs from my life in Southern Appalachia.
Subscribe for FREE and get a daily dose of Appalachia in your inbox