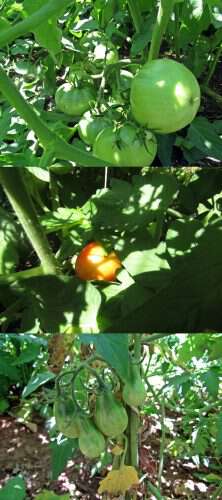 We usually have a bumper crop of tomatoes. Maybe it's the area, the dirt, the weather, maybe it's because we stick to heirloom varieties, or maybe it's because we start our seeds in the greenhouse.
I was worried about our tomato plants this year. They started off so s-l-o-w. But they finally came through for us and we ended up planting almost a 100 plants.
Sow True Seed, sponsors my garden, and they have the heirloom tomato varieties we love: Cherokee Purple, Mountain Princess, Black Cherry, and the list goes on and on!
Over the last few years, we've tried to trim down the tomato varieties we grow-just to simply things. Knowing someone else is paying for your seeds (thank you Sow True Seed!!) makes it awlful tempting to try every variety they have!
Cherokee Purple is always a must-they are great producers with an excellent taste.
Mountain Princess is a non-stop producer. The last 2 summers I've filled my canning jars with their medium size tomatoes. I was heart broken when I discovered Sow True Seed was out of Mountain Princess seeds when I sent them my order back in the winter.
I have a love hate relationship with Brandywines-yellow and pink. They taste so good! They used to be dependable producers for us-but the last 2 summers they've been a disappointment in the production department. I made The Deer Hunter promise he would never let me grow brandywines again…unless they produce better this summer.
Cream Sausage is a small yellow sausage shaped tomato that tastes good enough to eat out of hand standing in the garden-and it produces an unbelievable amount of tomatoes. We've grown it for a good 5 years-saving the seed each year. But somehow I didn't start any this year. Sigh…I guess I overlooked the seed.
We discovered Black Cherry tommy-toes last summer-and I'm positive we'll plant them every year now. They are so good! After I took them to lunch a time or two- I had the girls at work asking me to bring them their on brown bag of Black Cherry tommy-toes.
We planted Green Zebras last year-but weren't too pleased with them. We're trying them again this year-keeping our fingers crossed they do better than last season.
The only new variety we're trying this year is one to replace the Mountain Princess: Principe Borghese. According to Sow True Seed Principe Borghese is an Italian Heirloom. I'll let you know how it does.
Come back in a day or so and I'll tell you about how we plant our tomatoes. And please leave a comment and tell us about your favorite tomato varieties.
Tipper