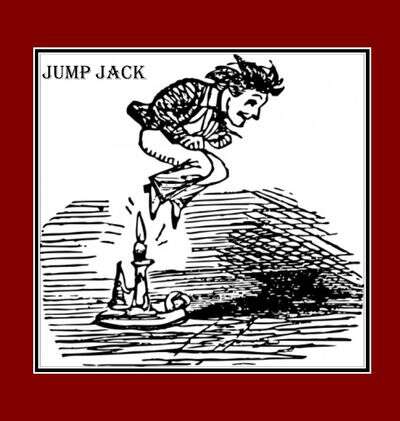 Jack be nimble, Jack be quick,
Jack jump over the candlestick.
—————–
Researching this rhyme made me scream WHO KNEW!? Turns out way back in the sixteenth century anyone who could jump over a candlestick without causing the flame to go out was guaranteed (supposedly) to be prosperous in the coming year. I guess anyone who could jump spryly over a flame without putting it out already had a leg up on folks who were not up to jumping over a candlestick.
At one point-jumping over the candlestick was such a popular pastime that it became a sporting event at local venues.
I'm thinking that would have been the one sport I could have excelled at…too bad candlestick jumping fell out of fashion I might have won a gold medal. Then again my dream of winning the gold probably wouldn't have happened…I doubt Granny would have let me do much practicing at her house.
Tipper
*Source: Roberts, Chris. Heavy words lightly thrown: the reason behind the rhyme. Large print ed. Waterville, Me.: Thorndike Press, 2006. Print.