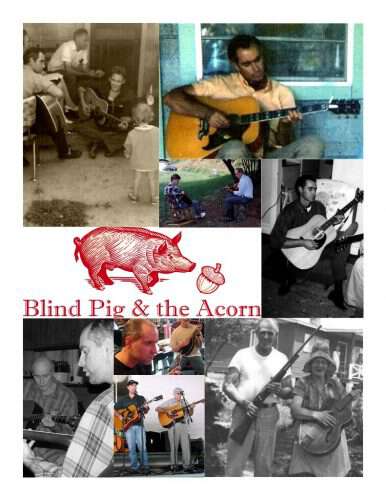 Today's Guest Post is written by Pam Warren. I first met Pam a little over a year ago-and I believe we clicked immediately because of our love of Traditional Music. It didn't take me long to realize Pam was the biggest Bluegrass fan I'd ever met. She and her husband criss cross the country to visit concerts and festivals on an almost weekly basis. While I can't say Pam loves the music any more than I do-I can without a doubt say she supports Bluegrass and Old-time Music more than anyone I know-including me.
—————————————-
"The music of the mountains is like a crystal stream; flowing with the rhythm, makes everybody wanna sing…."–From The Music of the Mountains, Bob Miner; David Dunkley; Ronnie Bowman, songwriters.
When Tipper honored me by asking me to write a guest post about Appalachian music, that song started running through my head, earworm fashion, and hasn't stopped yet. How does a girl from northern Michigan become familiar enough with the music of Appalachia to write about it?
Traditional music and arts have flowed like a river across the United States and Canada from east to west, and north to south, leaving no section untouched. I first heard string band, old time and bluegrass music at a festival near my little hometown in the late 1970's. The rhythm and sound, especially the sound of the banjo, stuck in my head and have influenced my musical tastes ever since. A move to the Detroit suburbs twenty years ago brought new friends and neighbors transplanted from the South and further immersed me in traditional music, especially bluegrass.
There are many examples of families passing their musical talent and preferences down to succeeding generations. Most of us have heard stories of neighborhood night jam sessions, playing on the back porch, and sons growing up to play as well as, or better than their elders. Indeed, many of the great Michigan bluegrass players trace their family to areas where Appalachian music also has its roots. But there is more to it than just that. Organizations like the International Bluegrass Music Association (IBMA), the Bluegrass Museum, and others have programs which give instruction in, and provide information about, bluegrass music.
I asked two gentlemen who have a history in the music, and in the Appalachians, to discuss their involvement in keeping traditional music alive.
I asked some questions of Dr. Everett Lilly, of the Songcatchers, Beckley, West Virginia.
Q    You come from a family with a long history of playing and singing. In what way or ways is music important to you?
Music is life to me. It was handed to me in my early childhood in terms of listening to the Carter Family, Bill Monroe, the Stanley Brothers, and others on the radio. I also witnessed The Lilly Brothers playing (practice and shows) any number of times which made a deep and lasting impression. I also watched my Dad play several times with Lester Flatt and Earl Scruggs. Since then it is so intimately connected to my life and my Appalachian culture that it is simply part of my being. It helps me get through life, cope with many aspects of life, and enables me to help others.
Q    The Songcatchers were an outgrowth of a bluegrass class you taught at Mountain State University, is that correct?
Yes, The Songcatchers began at Mountain State University. We are a multi-generational Carter Family/bluegrass traditional music group
This all began when I started a class called Introduction to Bluegrass Music. Following the class two of my students asked for instrument classes and I organized those where I taught guitar and my father, Everett Lilly Sr. taught mandolin and fiddle. Then they wanted singing classes and evening jam sessions. So I accommodated those requests and discovered that two of the students, Tiffany Underwood and Bill Atkinson and I had something special together re the harmony singing. They didn't know any of the songs but they were quick learners. I soon had them practicing on a stage and they quickly learned how to handle themselves on the stage as well. Then we were joined in the jam sessions by students, Ron Moran and Daniel Gravely on guitars and Jordan Young, who was around age 12 or 13 on mandolin and Blaine Johnson who was around age 9 on banjo. Also joining us on acoustic was my cousin, Brian Taylor. All of these musicians needed a lot of development and the jam sessions served that purpose. Then we began to perform at some local venues and the harmony singing was our strong point but the young ones were progressing quickly. Within a year we were beginning to perform on larger venues and became sought after. The singing, development of the young people, and our stage presence all began to be at a higher level. We have now been together for a little less than five years.
Our latest member to join The Songcatchers is my 10 year old daughter, Ashley Lilly.  The Songcatchers continue to develop and improve and this is a celebration and a labor of love for all of us.
Q    Most students who are not music majors who take a music class, get the credit and move on quickly. What was different about the students in the bluegrass class? Or was it the material? Or was it the willingness of the adults involved, including you, that kept the ball rolling?
The key class members were Tiffany Underwood and Bill Atkinson. Both had musical talent and Tiffany was singing as a young child. Bill had experience singing in church and had a strong interest in learning to play the mandolin as did Tiffany. I think the class brought the three of us together and we became the core of what would later become The Songcatchers. If it weren't for these two students The Songcatchers may never have happened. We have an unusual ability to sing together, chemistry, and a personal commitment to the music and to each other that is rare.
Q    Are the members of the group from musical families?
Except for me the members of the group are not from musical families in the sense of fathers, mothers, etc. playing professionally. Our bass player, Brian Taylor who is my second cousin, also is related to my father, Everett Lilly, Sr.
Q    What factors affect the continuation of the group?
The main factor affecting the continuation of the group at the present time is Tiffany Underwood who now lives and works three hours away. She, Bill Atkinson, and I are the nucleus of The Songcatchers and so long as the three of us can be together the group can continue.
Q    Multi-generational is a word often used in connection with the Songcatchers, and, it does describe the member's whose ages fall in a wide range. Is multi-generational used to distinguish the band from college or university sponsored groups which usually consist of students in a music program or is there another reason?
The use of the term multi-generational was mine. I did it because I enjoy doing professional workshops with the music included. I wanted to emphasize the intergenerational nature of this music as reflected in the makeup of The Songcatchers. At the same time we also claim an affiliation with Mountain State University because I work there and connect the group to the work I do there in terms of fund raisers in the community and workshops on music and culture that I do at conferences.
Q    How important is having all age ranges involved in the Songcatchers?
Well, it is very important to me personally because of the intergenerational nature of the group and my interest in passing this wonderful music along. Then on a deeply personal level I was ever so pleasantly surprised when my daughter, Ashley who is age 10, asked to join the group. Now the MAJOR importance to me is the original reason the group began: Bill, Tiffany, and I discovered we loved to sing together and had something rare. That still is a very major motivation.
Q You emphasized to me how important this music is to you and other Songcatcher members. Can you describe that feeling with a word other than important?
In a word the music is joyful. Other single words that come to mind are meaningful and spiritual. The last word that comes to mind is life–this music is life itself in all of its beauty and challenges if one pays attention to it.
Next, I visited with Michael Ramsey, of the Red White and Bluegrass Festival, Morganton, North Carolina.
Q    You come from a family with a long history of playing and singing.  In what way or ways is music important to you?
The funny part is that I do come from a family with a long musical history, to a certain extent.
The Ramseys have been known as singers though it's not from a bluegrass standpoint. Their primary areas have been in quartet singing, choir leaders, mostly church oriented music. I really only have knowledge of this going back 2 generations, including my Daddy and his Daddy (and siblings). There still is a yearly reunion which always involves singing.
My Momma's side, the Powells, came from the old-time group with several banjo players. Even my Grandpaw, Glenn Powell, tried to play banjo, as did his Daddy. It used to thrill him to no end as I began my musical journey with the banjo when I was about 20 years old. Paw Paw said he'd worn out 2 or 3 old banjos trying to learn how to play, but according to him, never did succeed.
Aaron, my son, makes his living from performing and recording music. He plays probably 5-6 instruments very well. My daughter, Katie, has played several instruments and now primarily plays guitar and bass. She has also played piano, clarinet and saxophone. They both sing lead and harmony parts. Personally, for me, music is my escape from the day-to-day responsibilities of the world. All aspects of music, production, band management, recording, distributing, are interesting to me. I try to always make time for music, in some form, everyday.
Q    What is the nature of your affiliation with the Red, White and Bluegrass Festival?
I'm co-producer, stage manager, website manager and general town crier of this festival. It actually happened by accident. I was asked if our band, The Linville Ridge Band, would like to participate in the inaugural event in 2004. At that point Gary [Leonhardt, festival producer] had pursued a couple of major groups and then failed to follow up in the booking process, which lead him to look at other groups. I got on board with a few suggestions I tell folks who ask about what I do, that I do a bunch of the "legwork" to help keep this event going.
Q    Why did the Festival elect to host a kid's bluegrass camp? Has it always been a feature of the festival? When did it start? What are the goals for the camp?
The camp was established to help grow a new generation of pickers and lovers of the music. It's family-friendly and I think families doing things together can be beneficial to the family unit as a whole. The kid's camp sort of evolved after the first couple of festivals, during 2006, I think. It began with few local kids who were attending the festival and were taking a lessons from Gary. He has taught beginner lessons on guitar, banjo and mandolin, through the recreation department for years. I think the kid's camp just became an extension of that connection he already had in place
Q    What are the benefits to the participants in the camp? To the Festival? To the instructors?
I think I've already answered the first two parts of this question, so I'll focus on the third part. It is a three-day event which helps us to help the instructing band to have three extra days worth of work (which lasts about 6 hours or so each day) with minimal traveling. I'll include one very rewarding story from two years ago. That was the first year that Chris Jones (and his band) hosted the camp. Chris hired Greg Luck (local NC guy) to take care of the fiddle chores of the camp. Greg told me he had a small boy come to the camp that had never touched a fiddle. This kid had never even opened the case of his small fiddle when he waked into the room. After the first day, Greg had the child vamping solid rhythm on the 2 and 4 beats of bluegrass rhythm. After 2 more days, he had the kid playing a decent beginner version of Boil Them Cabbage Down. Greg told he hoped that in about twenty more years that kid would have the ability to replace Stuart Duncan. That's bluegrass in a nutshell, sharing it and seeing it continue.
Q    Is there anything about the demographic of the camp participants which is interesting? Are participants from musical families? Local? From a great distance?
At this point, I can't give you any documented demographics of the kid's camp participants. I do know that either last year or the year before (2008) we had a brother and sister whose parents brought them to the camp from the Philadelphia, PA, area. I'm sure some kids come from musical families and some come from non-musical families. There are a few local boys who have been in the camp every year. They're getting ready to graduate high school and are still playing together in various forms. I think that gathering a bit more info about these folks, in order to study demographics, could be greatly beneficial to us for the future events.
Q    The camp participants appear on stage on the final day of the festival. Why have you made this effort? What are the benefits to the kids? To the festival?
Some of those aforementioned local guys have appeared onstage at local bluegrass concerts, getting up with folks like Mountain Heart and IIIrd Tyme Out.
Ken Whitesides, a banjo player among the camp participants watched Barry Abernathy play the banjo without any fingers on his left hand, and told his Daddy that he thought he could do that, if Pop would get him a banjo. David (his dad) got a banjo and Ken took off. Since that time he has went on to win several other youth banjo contests, hosted by folks like Raymond Fairchild and others in this region. He also became the youngest player ever to win the Merlefest banjo contest at the ripe old age of 14-15, in 2008.
I think when kids are given the chance to participate in anything, they're not afraid of making mistakes, as sometimes adults are. They just want to try. They hit some wrong notes and then analyze and correct themselves. Their brains just want to absorb information. We feel that having good instructors to steer them right will help them to continue to grow and improve into better musicians. When we start walking, we're cheered for our first stumbling efforts and we, as children, reach for our parents, who are encouraging us. Gradually, we get to the point of not having to rely on that parental or instructional help and walk on our own. We feel that this camp does the same thing, musically, for these interested kids.
The festival feels this camp is beneficial to the festival due to growing a new core audience of listeners and pickers.  When new attendees come to the fest, they see that there is a way for THEIR kids to participate (should they choose to do so) and to actually perform on the stage.  That's a proud moment for parents, furthering the family bond.  Most of today's festivals are family-friendly.  I'd wager that there are very few attendees of the festival who do not enjoy seeing the kids onstage, further enduring them to our festival.
No wonder a small town girl from Michigan became involved in the music, the stream of traditional and bluegrass music flows on, thanks to the dedication to keeping the music alive and relevant Dr. Lily and Mr. Ramsey have.
——————————————
I hope you enjoyed this Guest Post written by Pam Warren as much as I did-leave her a comment and I'll make sure she reads it-and remember every comment left on a Spotlight on Music in Appalachia post gives you another entry in the Guitar Giveaway.
Tipper