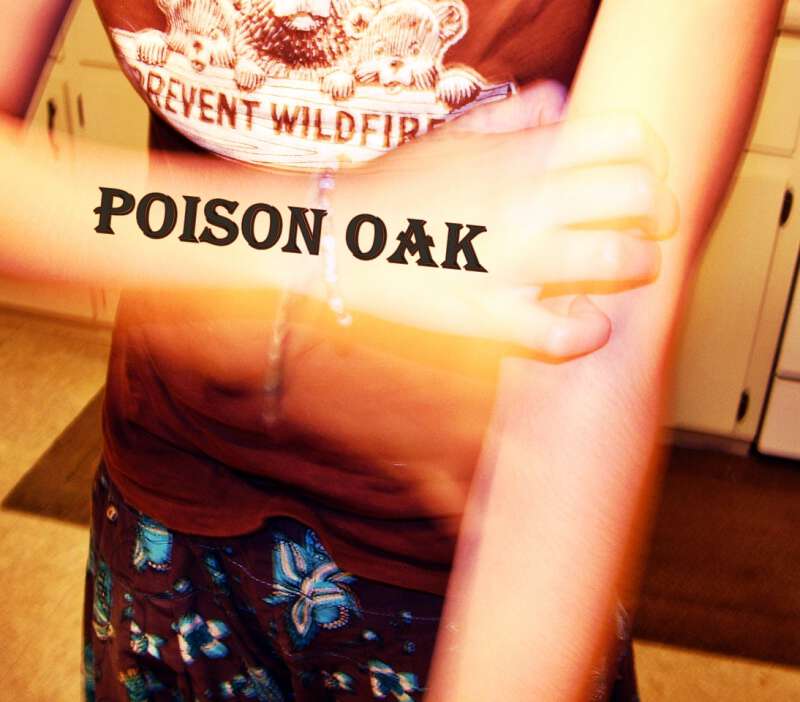 This time of the year folks are worrying about bug bites and the dreaded case of poison oak or poison ivy. I know they're different plants, but we always called the itchy stuff poison oak no matter which plant it came from. I was a lucky kid, I never had poison oak, but that wasn't the case for others in my family.
Granny is highly allergic to the stuff. Honest to goodness certain times of the year she can walk through the yard and catch it from the wind blowing. When she was pregnant with me she had a horrible case of poison oak. Pap always said that's why I didn't seem to be effected by the plant. He thought I built up an immunity to it when Granny was carrying me. Paul and Steve didn't get that same immunity.
One of the worst cases Paul ever had was during the middle of the winter. It was in the late 70's during one of the coldest winters on record for our area. We still had gravity water and it stayed frozen more than thawed during that bitter cold spell. Pap built fires along the length of black pipe that wasn't buried to thaw it. Paul and I loved for the water to freeze because we played in the fires and explored the woods.
While playing in the fire we inadvertently burned poison oak and in just a day or so Paul was eat up with the raised itchy patches. Paul's case was severe. Pap took him to a local pediatrician who proceeded to explain to Pap that the boy could not have poison oak as it was the dead of winter. After the doc left the room her nurse told Pap "She's crazy as a loon that's poison oak if I've ever seen it!" A trip to a different doctor got Paul a much needed shot and medication for his aliment.
Steve's job requires him to be in weedy brushy areas and he has become an expert at heading off his outbreaks of poison oak as soon as he notices one, but he's had to have shots on more than one occasion.
A few summers ago my streak of never having poison oak came to a screeching halt.  I was helping a lady friend work in her flowers and apparently in the process of pulling armfuls of weeds I pulled up poison oak. At first I didn't really know what I had. I showed my arms to Pap and he said it sure looked like poison oak, but since I'd never had it he wasn't sure.
To say I was in misery is an understatement. After a few days of the mess Steve came to check on me. He took one look and said "Yep that's poison oak." For over a week I tried every home remedy you've ever heard of-from oatmeal to peroxide-nothing helped. Finally on a Saturday afternoon I gave up the fight and paid a visit to a local urgent care center. The doctor who saw me said "You waited about a week too long to come." He gave me 2 shots and sent me back by the hospital emergency room for a couple of pain killers. I have faint scars on the insides of each arm to remind me I don't ever want to have that vile affliction again.
A few home remedies I've heard about:
Fingernail polish-Granny swears by this one. At the first sign of a bump or patch cover it with fingernail polish-supposedly the polish seals the place off from air and helps it dry up.
Clorox to kill the poison.
Spread cooked oatmeal on the patches to relieve the pain/itching and to dry the areas up.
Mix baking soda with water and put on patches.
Use vinegar to stop the itching.
Use buttermilk to relieve the itch.
Rub patches with peroxide or alcohol to kill the poison and dry up the areas-this remedy hurts so bad but feels so good at the same time!
Several remedies suggest taking a bath in salt, soda, or oatmeal water-while others warn of never taking a bath.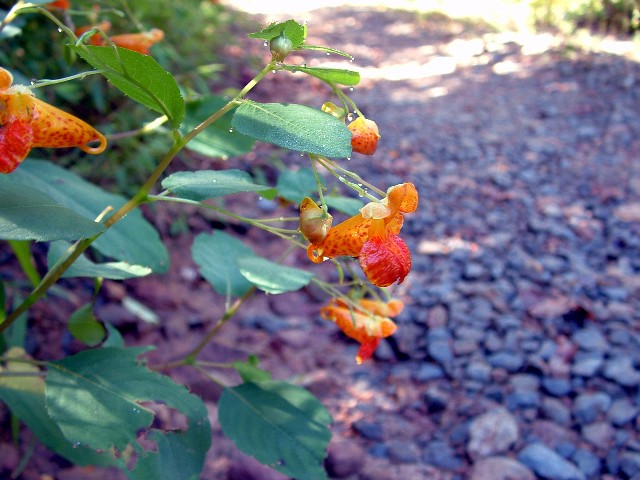 Jewelweed growing in a ditch at the bottom of my driveway
One of my favorite books on folk medicine-Folk Medicine In Southern Appalachia by Anthony Cavender has this to say about remedies for poison oak/ivy:
"…poultices of cooked or crushed leaves of peach tree, jewelweed, ragweed, red oak, willow, or nightshade; juice of a green tomato or milkweed; and topical solutions of red oak or willow bark. Frequently reported non-botanical remedies include buttermilk, soda paste, Epsom salt solution, cow's cream (sometimes mixed with gunpowder), a biscuit soaked in sweet milk, calamine lotion, salt water solution, and bleach. According to some reports it was believed that one could develop an immunity to poison ivy by eating some of it's leaves. This dangerous and potentially fatal folk belief still circulates today."
I've read several positive accounts about jewelweed's use as a poison oak remedy. Generally the plants grow in shady damps places and can reach two to three feet tall. The juice of the plant is a natural cortisone and is also supposed to be an excellent remedy for bee stings and bug bites.
Granny said the first time she ever remembered having poison oak she had it on her face. Her mother, Gazzie, took her to town to see the pharmacist. He sold Gazzie some calamine lotion for Granny's face. She said she'd never forget they smeared it all over her till she looked like a ghost. While they were in town Gazzie took Granny over to see her aunt. Granny said the elderly lady was scared by the child with the ghostly skin.
This summer Granny has had another bout of poison oak. She polished it up and then taped it up…only when she took off the tape she took part of her hide too. A shot from the doctor and some topical cream finally cleared up her poison oak and I'm keeping my fingers crossed no one else gets it this summer or ever for that matter!
Tipper