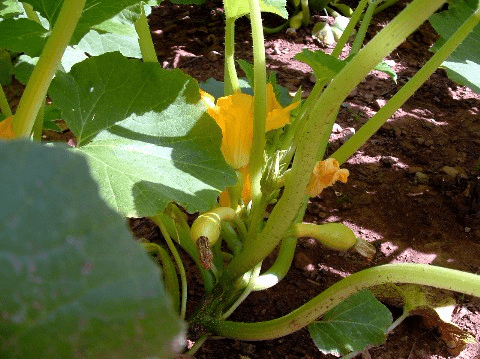 Do you ever find volunteer plants growing in your garden? Usually the seed sprouts from produce that was left on the ground the previous gardening season.
The most common volunteers I find in my garden-are tomatoes. If the seed that sprouted came from a hybrid tomato-the plant will produce small cherry tomatoes-or tommy toes as we call them. Since a hybrid plant is made from 2 'parent' plants-the seeds that come from their 'children' revert back to one of the parent's characteristics.
Even though-I know most of the time the volunteer plant won't be true to form-I find it hard to pull them up. The process of that little seed laying out there all winter and then sprouting-seems miraculous to me.
This year-I had a few volunteer tomato plants-and one squash/zucchini plant. I did pull most of the tomato plants-cause I need the room. But I'm letting the squash plant grow-it's huge already. I've read that the squash will turn out to be a misshaped hard globe-but I'm going to let it grow and see what happens.
I'll leave you with 2 questions:
~Do you let volunteer plants grow or pull them up?
~Hopefully some of you are more experienced with growing heirloom varieties than I am-can answer this one-if the seed that sprouts came from a heirloom variety does that mean it will be true to form?
Tipper