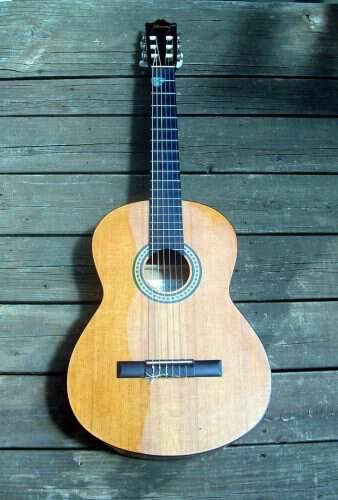 Pretty nice looking guitar uh? This is the Vintage Ibanez Classical Guitar that will be given away at the end of the Blind Pig & the Acorn's Spotlight on Music in Appalachia. Of course how it sounds means a whole lot more than how it looks-so Paul picked out an old tune for you to hear. East Virginia Blues-its what you call a traditional song-meaning it's so old no one really knows who wrote it. The song has many variations-which is typical with songs that have been preserved literally by word of mouth-or maybe I should say word of singing.
It's easy to imagine how the various verses and chords came about-for example: Say-Uncle Gaylord heard the song played in a tavern he visited on his way back from working down in the flatlands. Once he was home-he couldn't remember exactly what the words were-or exactly every chord-but he remembered the jist of it-and he adjusted the words as he picked out the song sitting on the front porch after a hard days work.
A few of the songs Paul and Pap sing-have been added to or changed by them. One that comes to mind is Early One Morning. It's a song Pap remembered from his childhood-even with today's technology no amount of searching found the exact lyrics-so Paul made up what Pap couldn't remember.
Everyone from the Country Gentlemen to the Carter Family has sung East Virginia Blues. The version we like-comes by way of Flatt and Scruggs. The words are slightly different-and the tune is as well-kinda like a slowed down version of Little Maggie. See what you think about this version-and see how good the giveaway guitar sounds.
Now that you've heard the sound-and the song-here are the giveaway details-it's only open to residents of the USA:
to be entered in the guitar giveaway-all you have to do is comment on a Spotlight On Music in Appalachia post-if you commented on the first one-you've already been entered once
each time you post a comment on a spotlight post-you're entered in the giveaway again-the spotlight posts will run through out the coming weeks-basically if the post is about music in any way-it's a spotlight post and a comment on it will get your name entered again
if you're interested in additional entries-10 to be exact-you can help me spread the word about the Spotlight on Music in Appalachia-take this button-copy the code in the scroll box-making sure you scroll down to get it all and and put the button in your blog sidebar or on your website-just let me know you posted the button on your site and I'll make sure to add in your extra entries-you can also email me if you need help adding the button
Leave a comment!
Tipper