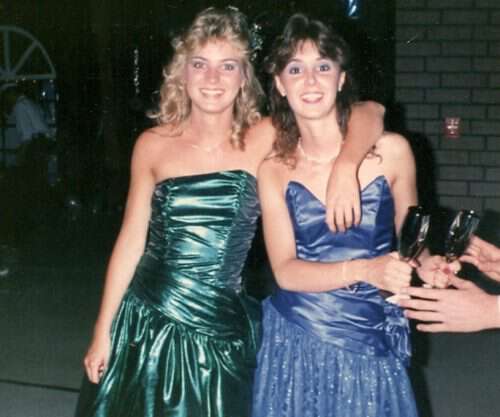 Pam and Tipper – Senior Prom
Pap and Granny showered my bothers and me with unconditional love and were always there to lend a helping hand-truly the best parents ever. However, I must admit, there were times I thought my parents were so old fashioned that they truly didn't understand the world-like I did.
I recently read a poem about parents and the jist of it was: as a child you idolize your parents, as an adolescent you think your parents are clueless, as an adult you realize your parents have great wisdom.
Pap has told me more than once-he never had to worry about Paul or Steve-only about me. I wasn't a bad kid-but I did give Pap and Granny more grief than either of my brothers. Pap is fond of saying "Tipper was the one who wanted to loafer to much", he meant I was always on the go.
Looking back-I see many times I should have taken Pap and Granny's advice-I see clearly how right they were about a few bad decisions I made.
One of those times-My first job was at McDonald's-since I was still in school I worked mostly nights and weekends. One night it snowed during my shift at work. Pap called and suggested since I was a new driver, it would probably be safer if he came and picked me up. My superior teenage brain decided I could drive-what was a little snow. On the way home I wrecked and totaled my car. I was perfectly fine-but so mad at myself! Pap and Granny could have both given me the "if you'd just listened to us" speech, but they didn't. Pap even consoled me by saying if he had come and got me-maybe he would have wrecked and we'd both been hurt.
There are lots of "should-have-listened-to-momma-and-daddy" songs. Two that come to mind "Momma Tried" by Merle Haggard and "Where Corn Don't Grow" by Travis Tritt. For this week's Pickin' & Grinnin' In The Kitchen Spot-Early One Morning a true should have listened to momma song.
Hope you enjoyed that good picking! Interesting tid bit about the song-Pap remembered pieces of it from childhood-but him and Paul could never find the rest of the words or who wrote it. So they improvised and made up their own.
As you look back over your life, is there a time you wished you had followed the direction of your parents?
Tipper
p.s. If you've ever heard the old song-please let me know.