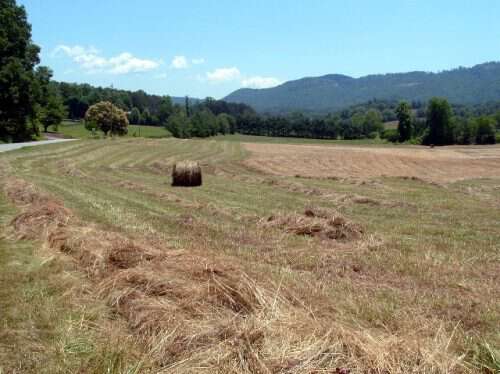 Over the past week, I've noticed folks working up their second cutting of hay. Getting in that last little bit to feed their stock over the winter.
In my area, if there are three cuttings of hay during the summer, farmers are very pleased. This summer and last summer, folks were lucky if they got two cuttings-many only got one.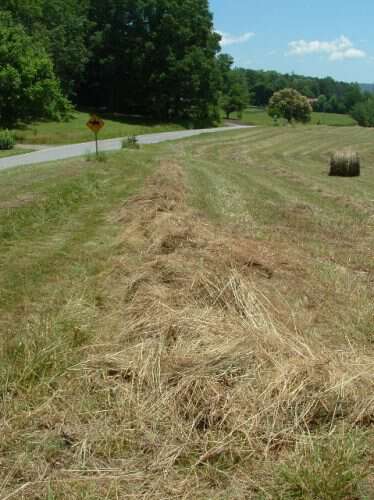 Our mountain holler is nestled behind a 2500 acre cattle farm. Each summer I love to see and smell the hay as it lies in the field ready to be bailed. Growing up, local boys were always hoping to get hired in the hay fields to make extra money. That was back in the days of square bales. Now that most farmers have switched over to round bales I don't see any teenagers helping out.
When Pap was growing up-hay was a necessity-something you had to have for your stock to survive the winter. In his earliest memories they cut hay by hand. He said they only cut once a summer-because it took all summer for a man to cut a whole field of hay by hand.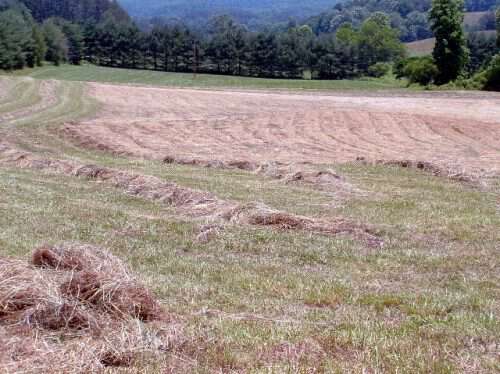 Later on, Pap's family used a cutting machine that was pulled by a team of horses to cut hay. They also used a rake pulled behind the horses to pile the hay. Then using pitchforks the hay was thrown on the back of a wagon.
If you were lucky enough to have a big barn-Pap said you stored the hay in the loft. If not-folks would cut a small tree, 4 or 5 inches thick, and cut the limbs down to where they were short and stubby. The tree was placed in the ground and the hay was thrown around it into a pile of sorts. As it was needed, hay was taken to the horses and cows.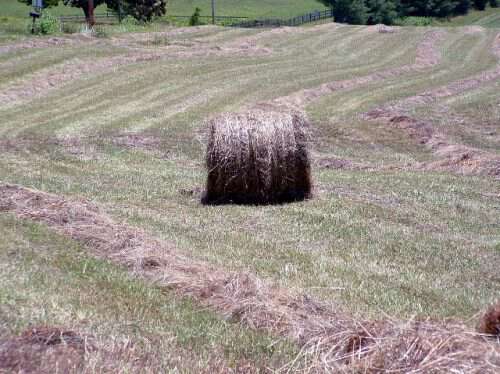 I'm no hay expert-but I remember buying square bales for a dollar a piece when The Deer Hunter and I had horses back in the day. Last summer they were selling for $10.00 a bale around here-due to the drought. A huge difference in price.
I can't help but think of the stark contrast of a farmer cutting hay by hand to sustain his family's animals through the winter and someone like me paying for hay to feed horses we only used for pleasure.
Tipper