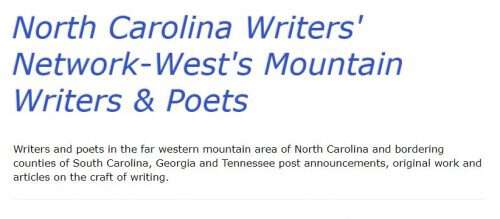 Netwest Mountain Writers and Poets is a non-profit organization which helps facilitate the efforts of writers living in Western NC, North GA, East TN, and Western SC to publish their work. Their website is a true haven for writers. It features writers work along with dozens of writing links, class opportunities, and information on how to join the Netwest Network. If you have an interest in writing I highly recommend you visit their site. And please leave them a comment-they love comments!
One of the groups monthly meetings is- Coffee With The Poets. It is held the 4th Wednesday of each month at the Phillips & Lloyd Bookstore in Hayesville, NC. For the second time Chitter was asked to come and read some of her poems today.
They let her drink tea from a fancy cup.
She read 3 of her poems.
They presented her with a pretty book to write in.
Here is one of Chitter's poems she read today:
What Am I Not
What am I not
I ask myself Like the book Upon the shelf
Who am I
A thought in time
Or just someone To make a rhyme
Or a dime that's Lost its shine
Like a line that curves And bends
Or someone to send A message
Invite your friends And Uncles Even your pets
To listen to my story And all it's glory
(Chitter 2008)
Hope you enjoyed Chitter's poem and please stop in and see Netwest Mountain Writers & Poets I know you'll be glad you did-and tell them Chitter sent you!
Tipper