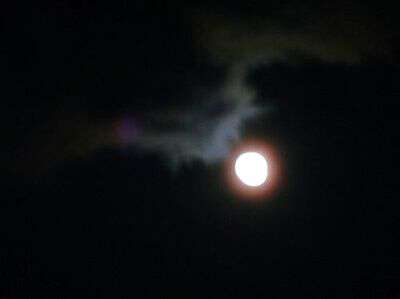 Today's guest post is written by David Templeton:
In The Mirror, Passing A Cross
Here I am in my '60s. The vampires of the movies, the werewolves, the mummies, Frankenstein's monster, a host of spectres that drove me so terrified that I slept until long past adolescence with my head covered up and only a small tunnel formed in the covers to give me fresh air, breathed as silently as I could so no creature could hear me, they have faded from my imagination and out of my sleep.
But, ghosts. All of the laws of physics, of nature, of chemistry, of the Universe as we know it, tell me, reason tells me, ghosts are no more real than Bram Stoker's Dracula, yet we don't know the mysteries of life and existence. We don't know if realities exist as though just beyond the turn of a radio dial, from one frequency to another.
I was not fearful about ghosts as a child, just the horrors from the movies. I was better off then.
Because when I drive, by myself, at night, past a death site, a cross by the roadside where one consciousness ended; when I drive by an old falling down house where families were born, lived and died, fright again overtakes me and I can't cover up and I can't stop, but I won't look in the rear view mirror because I sense there is something … someone … sitting behind me, in the back seat.
I know if I turn around and look I will lose control of my ever-speeding car. I know if I look in the mirror I will see the shadow … the pale, gaunt face, small, child-like, and I feel something, maybe a hand creeping over the back of my seat.
And a child's voice, faint but there, from behind me, saying to me, "Please take me home. I'm so scared and I can't find my mommie."
God help those caught in between.
And, as I drive past the old house, the tiny spirit is with me no more, but now home.
—————————–
I hope you enjoyed David's post-and all the other spooky stuff we've been discussing this week. Do you ever get scared when driving at night?
Tipper