Today's guest post was written by Betty Louise Saxon Hopkins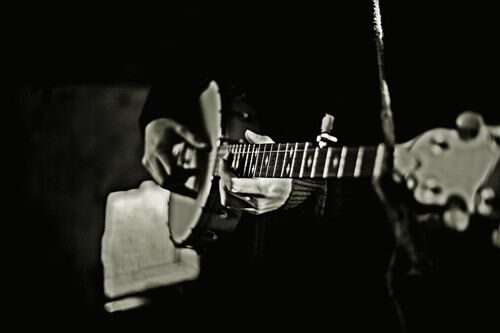 In today's modern age, this story would not seem very strange but for a little girl growing up in Appalachia in the early 1940's, it was a strange thing.
Daddy loved bluegrass music and was hooked on it from the time he was ten years old when his Uncle Lester Hood taught him the chords on a banjo while sitting on his Grandma Wilda's porch in the afternoons. The music made his spirits soar and his heart sing once again following the death of both his mother and father that summer. He felt happy again! He focused on his music for the next several years and learned to play a mean banjo while his older brother Vaughn honed his skills on the fiddle. Over the years they played at square dances and events around North Georgia and became quite good and were invited to play in a bluegrass contest on WNOX in Knoxville, TN. Daddy got up early that morning, long before his little girl was awake, feeling dapper in his new Sears and Roebuck suit, and headed to Knoxville with his brother Vaughn.
When I woke up, I wanted to know where my Daddy was. My Mom said, "He's gone to Knoxville to play music." Of course, being a Daddy's girl, I was devastated that I didn't get to see him before he left. In Mama's words, I "squalled and bawled" because I thought my Daddy wasn't coming back. My tears soon turned into joy when we gathered around the old Philco Radio that afternoon to hear the announcer call my Daddy and Uncle Vaughn's names. I was wide-eyed with wonder as I sat and listened to "the Orange Blossom Special" ringing out over the airwaves. I could not imagine how in the world my Daddy could get inside that little box. Strange!! When he returned home, I was one happy child as I climbed into his lap and checked out his shirt pocket and found a pack of "Juciy Fruit" gum, a treat he had brought back for his little girl.
Daddy's music continued to bless our family over the years and I'm convinced it helped him through some of the tougher times. There's a saying that "Music washes away from the soul the dust of everyday life." I have no doubt it did that for him as well as our family.
—-
I hope you enjoyed Betty's guest post as much as I did!
Tipper
Subscribe for FREE and get a daily dose of Appalachia in your inbox