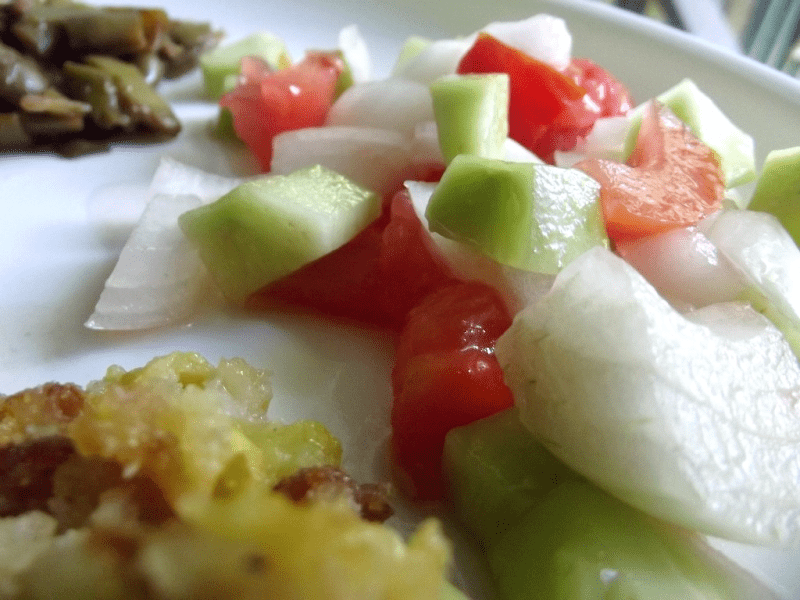 Come summer time, you can count on Granny having the salad above in her frig or on the table if you're sitting down to eat. It's one of those things I've always taken for granted.
The other evening me and Chatter were hungry. It had been a long day, Chitter was gone with a friend, The Deer Hunter was gone on a trip and neither me nor Chatter wanted to fix something for supper. So we do what we always do when that situation arises? We head down the hill to Granny and Pap's to see what they have to eat.
As I was filling my plate with Granny's good supper, I realized she probably learned to make her summer salad from someone, so I asked her.
There were 11 children in Granny's family, 9 lived to adulthood. Granny was the 3rd youngest of the bunch. So by the time she came along some of her older siblings had already moved out, married, and had children.
Granny used to spend part of the summer with her sister Dorothy in Gastonia, NC-we called her Aunt Dot.
Granny babysat for her sister and helped out around the house, but mostly she felt like she was getting to go to the big city and live the high life.
Granny said Aunt Dot served the salad for supper almost every day. Granny said she just loved it so she asked Aunt Dot where in the world she learned to make it? Aunt Dot said "Why Mother made that for us all the time when we were little. Don't she make it for you and the rest of the bunch at home?"
For whatever reason, their Mother had quit making the salad by the time Granny came along, but thanks to Aunt Dot the simple recipe survived and was passed along so that I might enjoy it my whole entire life.
To make Granny's Easy Summer Salad: dice up an onion-some cucumbers-and tomatoes. Toss them all in a bowl; salt to taste and put it in the frig for a couple of hours. All those great flavors of summer marry together into a sort of relish. Granny says it makes all the other food taste better  and I agree with her. The simple salad adds a brightness to a meal that might otherwise be the same ole same ole.
Tipper