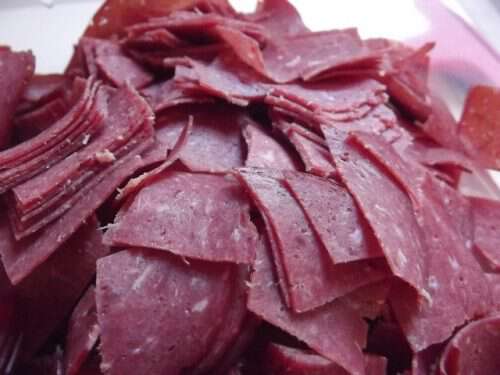 I never eat Creamed Chipped Beef on Toast before I married The Deer Hunter back in the day. But from the first time Miss Cindy made it for us-I loved it.
Creamed Chipped Beef on Toast is a pretty fancy sounding name, but most folks, including us, call it SOS.
Apparently Creamed Chipped Beef on Toast was served often in the chow line and soliders who had grown tired of the meal came up with the more colorful S*it On A Shingle name and then shortened it to SOS probably so they could say it in mixed company.
So here is how Miss Cindy makes hers.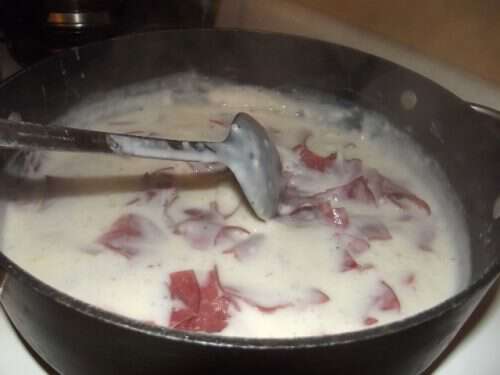 Creamed Chipped Beef on Toast AKA SOS
Ingredients
2 to 3 tablespoons butter
2 to 3 tablespoons flour
1 cup milk
1/2 to 1 cup water
Pepper (Miss Cindy like lots of pepper)
1 large jar dried chipped beef chopped into 1 inch squares
Melt butter, add flour and pepper. Stir while it heats, it will become thick and bubbly.
Add milk, stir and heat, then add enough water to make it gravy consistency.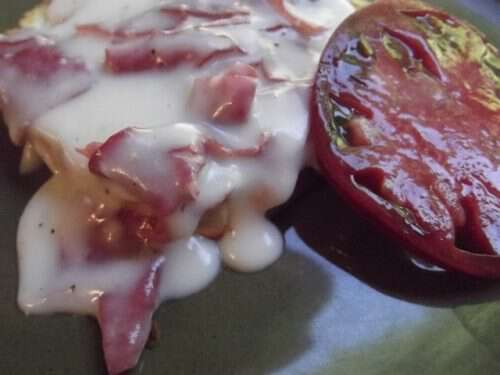 Add chopped chipped beef, heat through, serve on toast and call me when it's ready.
Notes: There is no salt in this recipe because the beef is salt cured. If salt is an issue for you, soak the meat a little while in water and drain it well before adding it to the gravy.
This is a very flexible recipe. If you prefer to use half and half for a richer gravy that is fine. If you want to use a 2% milk to cut down on fat, that's ok too.
————————
The last time Miss Cindy made SOS for us we had Cherokee Purple tomatoes on the side and a big glass of sweet tea and it was so good!
I never make SOS myself its like I never think of it until Miss Cindy is visiting or we're visiting her. I especially like the glass jars the dried beef comes in.They have stars all along the lip of the glass and make dandy bathroom glasses/toothbrush holders.
Ever had SOS?
Tipper