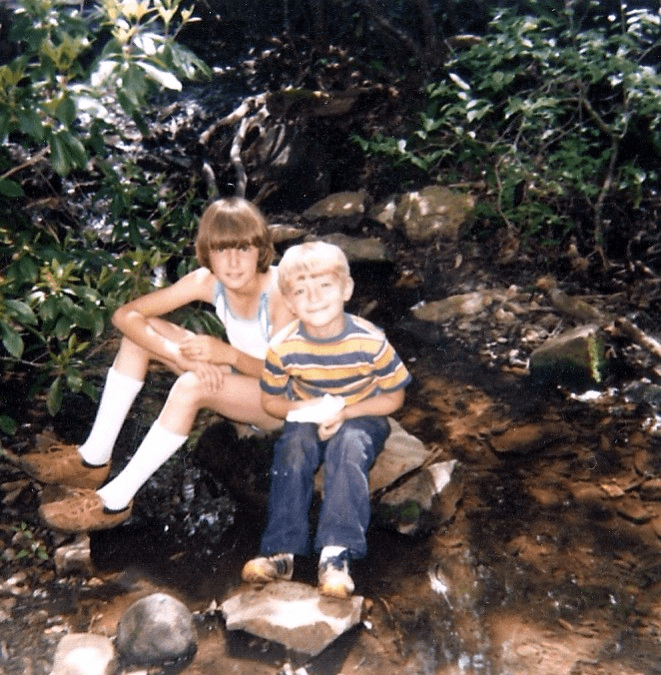 Tipper and Paul
I appreciate all of you who hung around for not one-but 2 weeks of the fish. I enjoyed every photo and every guest post submitted for the week. As the series draws to a close I realized I never told you any of my fishing stories-mostly because I don't have many to tell.
When I was young my older brother, Steve, was the fisherman of the house. It seems like he was always going off somewhere with a pole-a can of worms-and a warning from Granny to "Please be careful."
I'm the only girl Pap and Granny had. I'm sandwiched between the 2 best brothers in the entire world. Pap took the boys fishing fairly often, and my usual part in the day of fishing was this:
I'd beg and plead to go along too. I'd promise to be patient and not want to come home because I got bored or tired of fighting the bugs and briars. Sometimes-most times-Pap would give in to my pleading even though he knew well and good my promises were false and as soon as I tired of playing around the river I'd be asking if it was time to go home every 4 minutes. I still have good memories of those times fishing with Pap and the boys though.
Pap loves to tell about the time Paul caught a big carp and I got so excited I picked Paul up pole and all and started running up the bank to the woods to make sure he got the fish pulled in.
Most of the time Pap fished either just below or just above where Brasstown Creek flows into the Hiwassee River. If we were on the river side-Pap made sure to listen close in case they let the water off to generate power.
One trip that especially stands out in my mind was farther down the river than Pap usually fished-closer to Murphy than to Brasstown. Now that I look back through the years-I realize we were near the place Pap was born when his parents sharecropped on the Harshaw Farm. Typical-after we'd been there a while I started whining to go home. A little farther down the river Pap found a large sandbar to perch on. There was a pool of water between the bar and the bank. Since the secluded area was away from the moving waters and wasn't very deep either-it made the perfect place for me to play. Pap let me get in clothes and all. I was fascinated by the shiny sand and the millions of round smooth rocks-and when it came time to go home that day-I didn't even want to go.
After those days, I didn't go on a fishing trip again until I met The Deer Hunter-and even then I think I only tagged along on one trout fishing expedition up the Middle Prong area of the Pigeon River.
By far my largest experience with fish lies not on the catching side-but on the cleaning side. When I met The Deer Hunter I was working at Lake Logan-a meeting facility then owned by Champion International. As a boathouse attendant one of my duties was to clean any fish caught by the guests-and they caught plenty. Those days were some of the best of my life-but I was too young and silly to realize it.
The Deer Hunter fished quite a bit when we were first married but as the girls grew older he dropped the pursuit of fish for the pursuit of whatever the girls were doing. In fact-the only time we've ever taken the girls fishing (that they can remember) was last summer.
Even though I don't have much experience with fishing-I'll always look back fondly on the days Pap let me come too. I'll always remember how safe I felt riding on his back as he stomped down the briars and weeds to make me a place to play beside the river.
Tipper