Today's entry in The Week Of The Fish was written by Kenneth Roper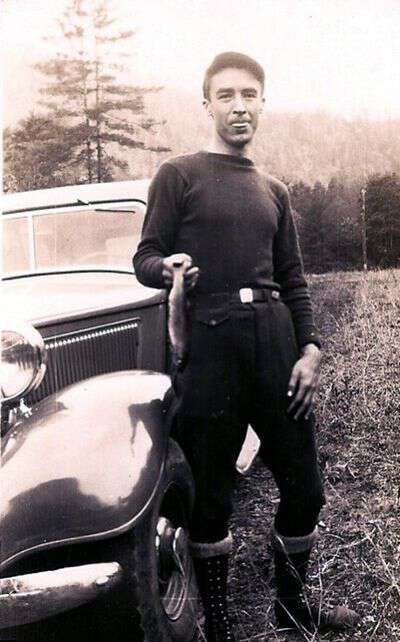 Curtis Mease-The Deer Hunter's Grandfather
———————————–
Fly Fishin' at Horsepasture River written by Kenneth Roper
School had been out for two weeks, I had just turned 14 and we had a Kennedy in the White House. Life was good, and the morning Sun was peepin' in and out as we rode through the shadows to the Land of the Jellies. We were nearing Cashiers, heading deeper into the mountains of Transylvania County.
Suddenly the road turned into gravel, dust was so thick you could hardly see our lead Jeep in front of us. It only took a few of those "meet yourself a coming" curves and I was hanging out the truck window, gaging like a dog. (And today, if I'm not driving, I still get carsick.)
Finally we pulled off the road a piece and stopped. I noticed the Jeep, and Ralph and Ted walking around just like they owned the place. We had arrived at Horsepasture. I poured out of the truck, grabbed a heavy quilt, and threw it in the grass and briars. By the time I woke up they already had a big tent set up and the chores were mostly done. Ted saw that I was a bit sad for not helping so I got to clean most all the fish for supper. Now since Ted was a Deacon in our Church, and daddy's best friend, my brother and I had to watch our colorful language when he was around. But he taught us the art of tying flies.
Those he made he called "skullbusters." They looked like a Grey Hackel with a Yellow Body, but his were much better than the storebought kind. And he taught us how to use our ole three piece bamboo rods, how to roll the flies across the water as if they were Mayflies about to be supper for a big ole Brown. (I think those Hollywood Dudes in the movie "A River Runs Thru It" could have learned something from our technique!)
My brother and I had caught lizzards and saved enough money to order our own Fly-tying Kit. Harold was much better at making flyhooks than me, but I'll bet our daddy wondered what was happening to his prize Dominecker Pullets, with those fine feathers a missin' around their necks and glory holes, but that made excellent hackel. Just a few years ago, my brother went on to a Better Place, I still have our Fly-tying Kit.
Ole Ralph, had been to Horsepasture and even on over to White Water many times before, and he shared with us what to expect. So about an hour and a half before dark we scattered up and down the river. That evening I went upstream and was really charged, getting to fish a new stream, fishin' in places that most would pass on by. Horsepasture is a darker water and much slower than our beautiful Nantahala, but the six of us caught 46 trout that evening. I'm sure we threw back many "stockers" and were probably illegal on the limit, but guess who got to clean the fish?
The next morning just as the sun was beginning to touch the water, I was making my way downstream. I just had to see "Windy Falls" and "Rainbow Falls" ole Ralph had talked about. Someone long ago had blazed a trail along the river, kinda like our Liquor trails back home. I had walked the trail for some time and noticed we were getting farther and farther from the river. All of a sudden it opened up, the wind was a blowin' and my brother and I was wet, just like being in a misty rain. It scared both of us at first, then we remembered Ralph telling us how the water just followed the falls a long way, before spraying into a large pond. We made our way to the river and caught a bunch of Brown trout that day, never making it on to see Rainbow Falls, but what a thrill it was for a couple of country boys.
———————————–
Hope you enjoyed Kenneth's post as much as I did!
Tipper