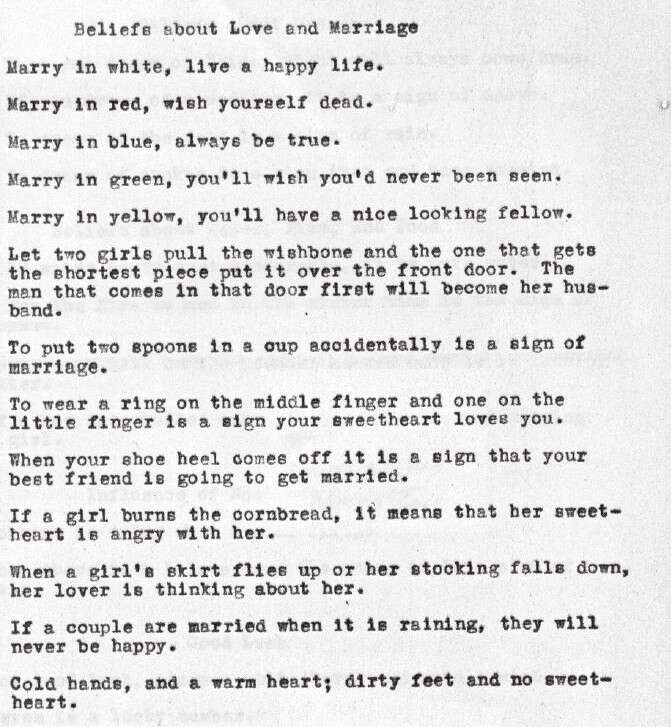 Beliefs about Love and Marriage
Marry in white, live a happy life.
Marry in red, wish yourself dead.
Marry in blue, always be true.
Marry in green, you'll wish you'd never been seen.
Marry in yellow, you'll have a nice looking fellow.
Let two girls pull the wishbone and the one that gets the shortest piece put it over the front door. The man that comes in that door first will become her husband.
To put two spoons in a cup accidentally is a sign of marriage.
To wear a ring on the middle finger and one on the little finger is a sign your sweetheart loves you.
When your shoe heel comes off it is a sign that your best friend is going to get married.
If a girl burns the cornbread, it means that her sweetheart is angry with her.
When a girl's skirt flies up or her stocking falls down, her lover is thinking of her.
If a couple are married when it is raining, they will never be happy.
Cold hands, and a warm heart; dirty feet and no sweetheart.
————————-
The sayings above were collected in Watauga County, North Carolina as part of a folklore study. A few others I've heard:
If the clasp on your necklace works itself around to the front of your neck-it means your sweetheart is thinking of you. You should kiss it before moving it back to the right place so he'll know you're thinking of him too. (I remember this one from elementary school)
The number of white spots on your fingernails = the number of beaus you have. (Granny always told me this one when I sat in her lap and she looked at my hands)
To see your future husband look into a well-by leaning over backwards and using a mirror to look over your shoulder. (I'd probably fall in!)
Peel an apple in one entire length without breaking the peel-throw the peel over your shoulder and it will land in the shape of the first initial of the man you will marry. (The girls have tried this one over and over-it seems like it always lands in a D.
If you let someone sweep under your feet you'll never be married. (I heard this one my whole life-I think its just another way for someone to tell you-you're being lazy and ought to be sweeping too!)
If you remember any other love/sweetheart sayings please add them to the list by leaving a comment!
Tipper
*Source for Beliefs About Love and Marriage: Holding Library Lees McRae College; Identifier lm00141*; Selection from A Study of Folklore in Watauga County, North Carolina.