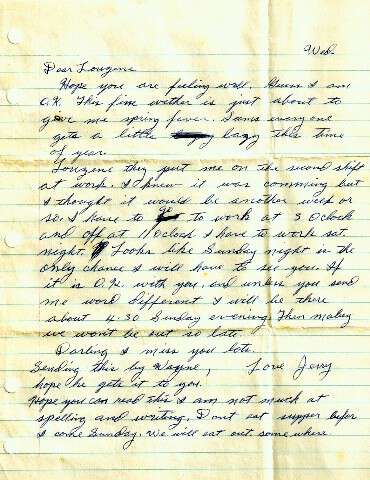 Dear Louzine
Hope you are feeling well. Guess I am o.k. This fine wether is just about to give me spring fever. Seems every one gets a little lazy this time of year.
Louzine they put me on the second shift at work. I knew it was comming but I thought it would be another week or so. I have to go to work at 3 oclock and off at 11 oclock. I have to work sat. night. Looks like Sunday night is the only chance I will have to see you. If it is o.k. with you, and unless you send me word different I will be there about 4:30 Sunday evening. Then maybe we won't be out so late.
Darling I miss you lots. Sending this by Wayne, hope he gets it to you. Hope you can read this I am not much at spelling and writing. Don't eat supper before I come Sunday. We will eat out somewhere.
Love Jerry
—————
Pap sent the letter above to Granny way back when they were first courting. Pap lived in the southern portion of Cherokee County-and Granny lived in the western portion. With today's modern cars and roads-that only equals about 25 minutes driving time-but in Pap and Granny's courting days the distance was farther in more ways than one.
Pap's Uncle Wayne and his wife Violet lived across the way from Granny's family. As often happens in large families, Pap and Wayne were closer in age than most uncles and nephews. They grew up together-driving wagons from the Harshaw Farm to Murphy-working in the fields-swimming or fishing in the Hiwassee River-slipping off to play when they knew better. And after they were grown, Wayne introduced Pap to Granny.
These days, Wayne spends his time in a nursing home in Asheville-he calls Pap often-and Granny and Pap well they still love each other just like they did back then.
Happy Valentines Day!!
Tipper
Portions of this post were originaly published here on the Blind Pig in February 2009.