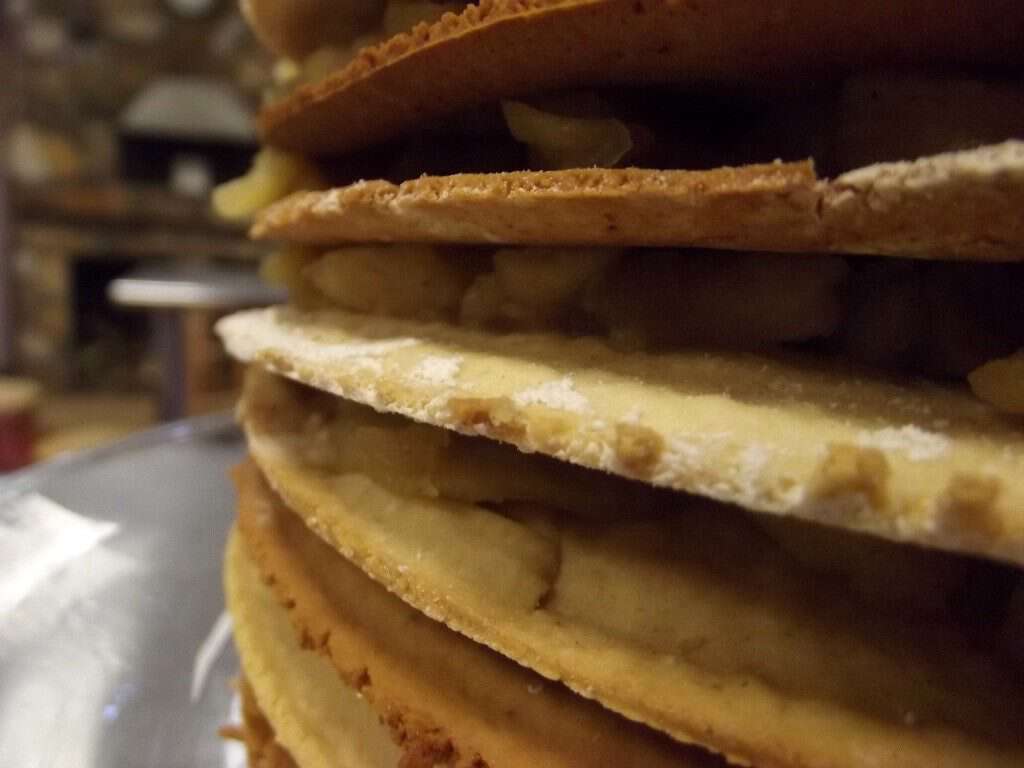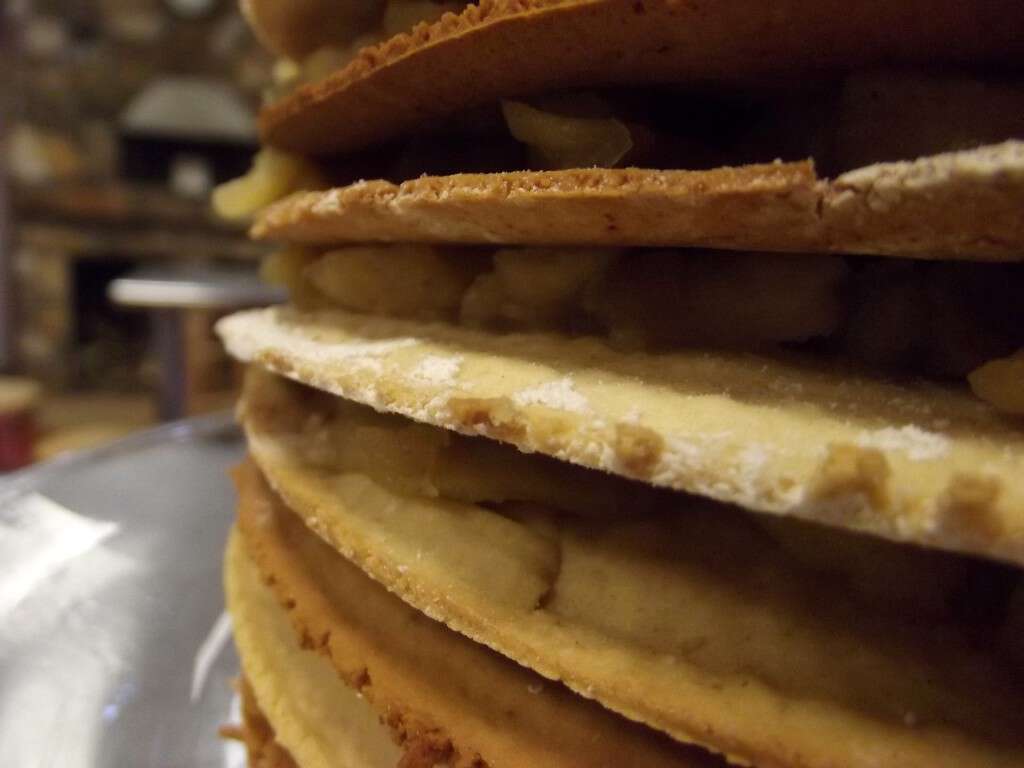 I'm finally ready to show you how I made my first Apple Stack Cake. More Than Moonshine: Appalachian Recipes and Recollections by Sidney Saylor Farr is one of my favorite Appalachian Cookbooks. I used Ms. Farr's recipe for my Apple Stack Cake, actually according to the cookbook the recipe is her Mother's. Ms. Farr says you can use fresh apples to make the cake-but you get a much richer taste by using dried apples. (use dried apples if at all possible)
Apple Stack Cake
Part 1: the cake
1/2 cup shortening
1/2 cup sugar
1 egg beaten
1/3 cup sorghum syrup
1/2 cup buttermilk (I didn't have any buttermilk-so I used the handy substitution of putting 1/2 tablespoon of lemon juice into my 1/2 cup measuring cup and filling it the rest of the way with whole milk)
3 1/2 cup plain flour (all purpose)
1/2 teaspoon soda
1/2 teaspoon salt
1 teaspoon ginger
1 teaspoon vanilla
Cream together sugar and shortening.
Add egg, sorghum, and buttermilk-mix well.
Sift together flour, soda, salt, and ginger.
Ms. Farr says to make a hole in the center of the dry ingredients; add the creamed mixture; and stir until blended.
Since I was using my mixer-I added the dry ingredients to the creamed mixture a little at a time until the mixture was blended well. I added the vanilla and mixed again till the consistency was like a soft cookie dough.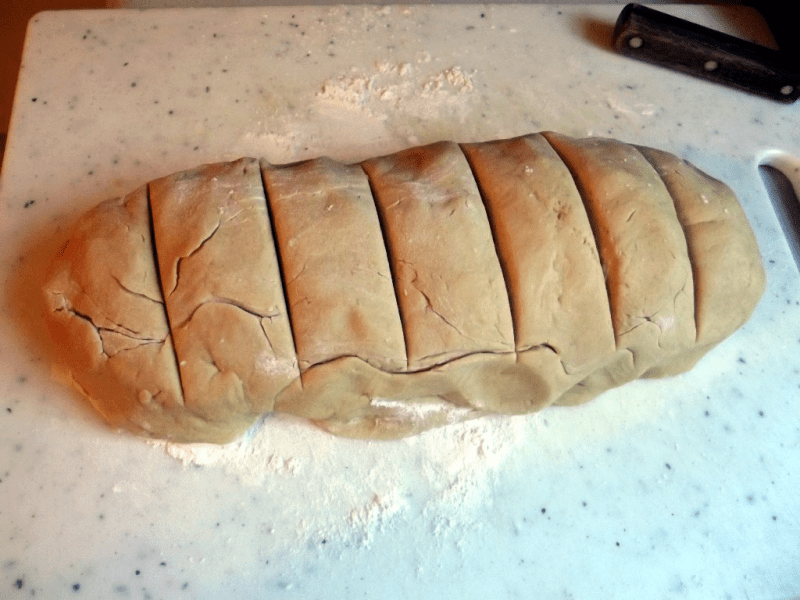 You'll need to add additional flour as you roll out the dough to make the layers. The layers need to be the size of a 9 inch pan. I'm sure you'll figure out your own way to do this step-but what I did was similar to what we did in the cooking class. First I shaped the dough into a loaf shape and divided it into equal portions. The recipe said it would make 7 layers, but I ended up with 8 layers and 2 cookies!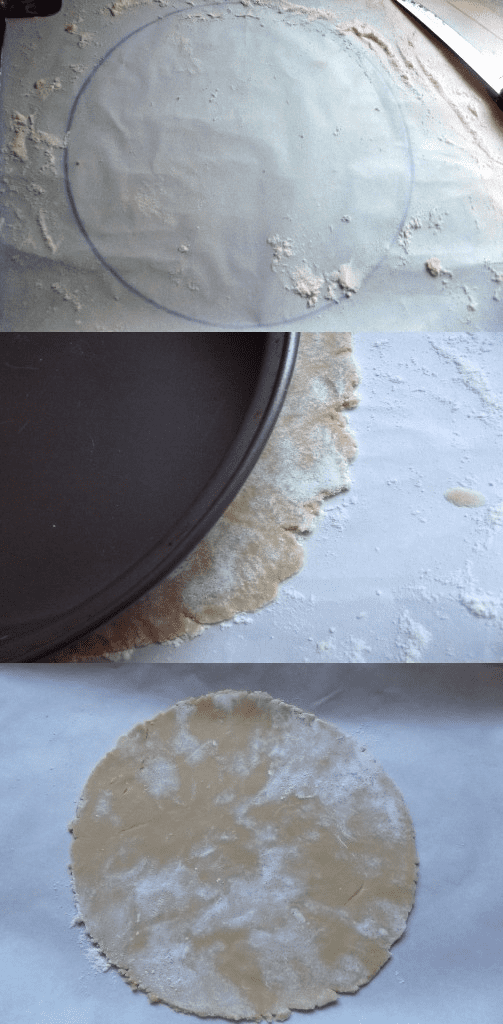 Using the bottom of my 9 inch cake pan for a template, I drew a circle on a piece of parchment paper. Using the circle as a guide: I rolled the dough out to slightly larger than the circle; laid the 9 inch cake pan on the dough and cut around the edges.
I baked the layers at 350 for 10 to 12 minutes until they were light brown. Baking the layers is the most time consuming part of making the cake. I lined my pans with parchment paper-that way I didn't have to worry about greasing the pans or washing between bakings-since I was able to use the same paper for all the layers.
Once the layers were baked I set them aside to cool on a rack.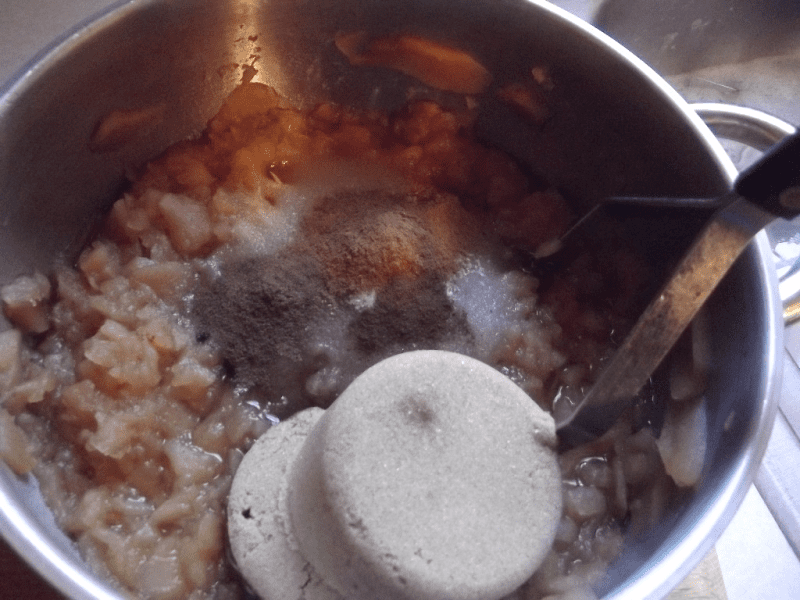 Part 2: Apple filling
1 pound of dried apples (I used 4 cups of dried apples)
water
1 cup brown sugar
1/2 cup white sugar
1 teaspoon cinnamon
1/4 teaspoon cloves
1/2 teaspoon allspice
Cover apples in a pot with water and cook; keep a fairly close eye on the apples as you may have to add additional water while they cook. Once apples are soft enough to mash, add the other ingredients and mix well.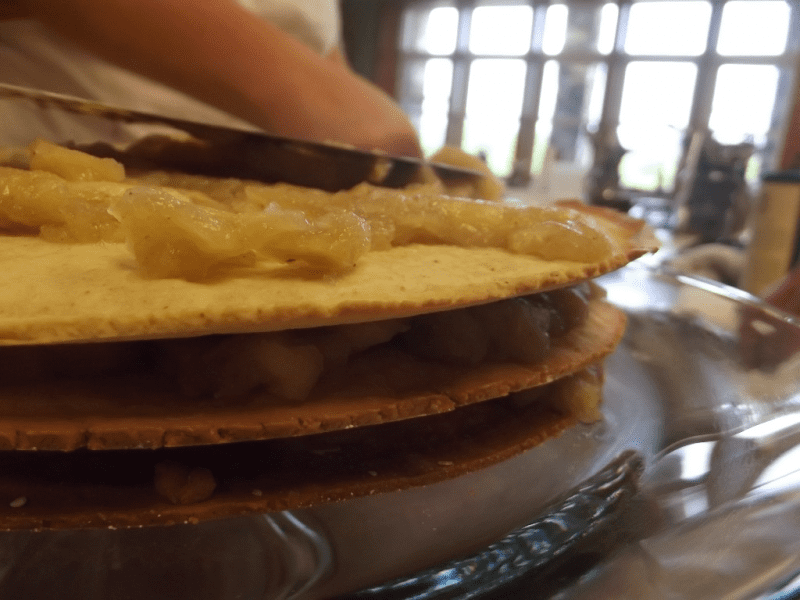 Part 3: Assembly
Place a cake layer on a cake plate and spread with apple filling. Repeat until you reach the last layer.
Whether you put apple filling on the top layer is up to you. Many cooks put apple filling all over the outside of the cake-just like you would any other icing.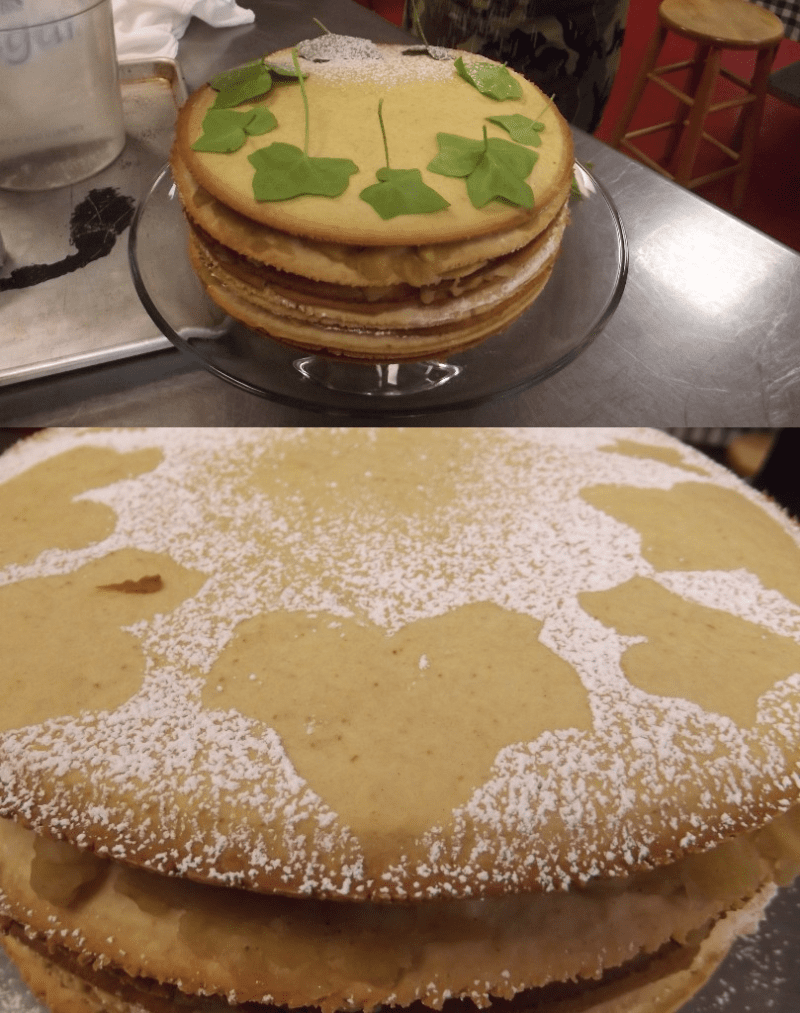 Since I wanted to recreate what I made at the folk school, I didn't put apple filling on top of the cake, but I did sprinkle it with powdered sugar. During the class, the students used ivy leaves as stencils for their powdered sugar.
I left the cake sitting on the counter till the following day. I believe the recipe said to place it in the frig-but I forgot-and it didn't seem to hurt the cake at all. I did refrigerate what wasn't eaten once it was cut.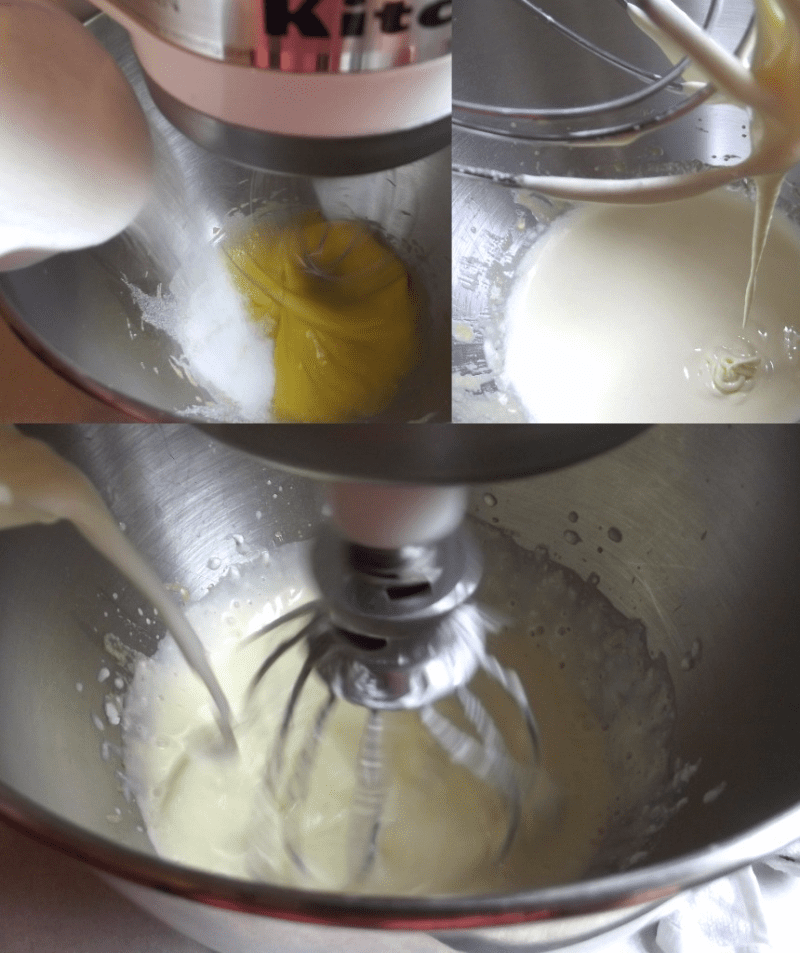 Part 4: Custard Sauce
4 egg yolks
1/2 cup sugar
2 cups half-n-half
1 teaspoon vanilla
pinch of salt
Custard sauce is not part of the traditional apple stack cake recipe-however it makes a good thing an even better thing. I had never made custard sauce before the cooking class at the folk school-but since the class I have made it as an accompaniment for all sorts of desserts.
To make the sauce: beat yolks in a metal bowl that will fit over a saucepan in the manner of a double boiler. As you beat the yolks, add sugar a little at a time.
Once sugar is added, increase the mixer speed-scraping bowl as needed-and beat until mixture is thick and lemon colored.
Add half-n-half and mix well. Move bowl over a saucepan of simmering water. Cook custard over water stirring often until mixture is thick enough to coat the back of a spoon. Add vanilla and salt. Remove from heat and cool in frig or by immersing in a bowl of ice water.
The custard will be thin-it will thicken up slightly once it cools but not very much.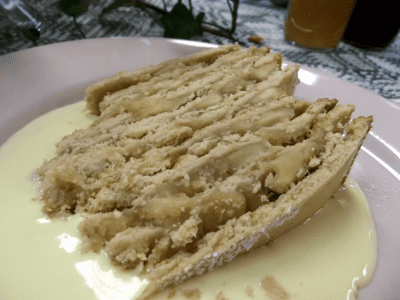 Part 5: EAT
After the apple stack cake has sit over night-slice a thin piece (or a thick piece) and drizzle custard over it or under it (or don't drizzle custard over it or under it) and eat!
If you like apples and sweet spicy cinnamony things-you will think this is one of the best cakes ever-at least this bunch does.
If you give the recipe a try, let me know how your cake turns out.
Tipper