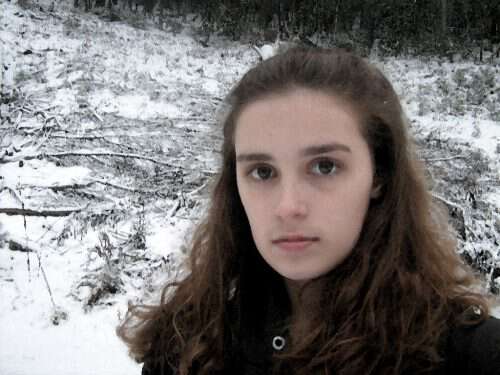 It's Sunday night-and the weather reporters are in a tizz about the impending winter storm and it's effect on the South. All factors indicate it will be another big snow for us. This winter I'm beginning to think the Snow Princess above has figured out how to call the snow and use it for her desires.
Granny and I usually get groceries on Monday morning, but since it looks like the roads will be snowy tomorrow we went early this morning. Granny and Pap's little front porch was icy with the skiff of snow we still have from last Friday. I had to help Granny down the steps.
Chatter and I were sitting in the back-The Deer Hunter and Granny up front. Granny said "Well what do you think about this cold weather? There won't be nobody stirring around this early but us, it's too cold for most people." She went on to tell us she was worried about Guitar Man his plane left Atlanta at 1:00 (turns out it didn't, but he did get on one eventually) and Granny was worried he'd have to walk the 5 miles from the airport to the college. I said "No Granny he'll be able to take a bus. If the airports are open they'll be buses running too."
I couldn't resist teasing Chatter by whispering "See someday when you're an old woman you can tell your grandkids-when I was a little bitty girl the winters were so bad my mother had to help Granny down the steps and my cousin had to walk 5 miles to college in 3 foot of snow."
After we quit giggling over Chatter's old lady voice, I started thinking about how I've heard lots of folks say the winters were worse when they were kids. I know I've heard The Deer Hunter tell the girls it snowed more when he was little than today. Yet this winter and last, we've got more than our fair share of the white stuff.
I remember big snows from my childhood. One cold and snowy winter Pap built us kids sleds. He split black pipe and put it over the runners so they'd go faster. I remember missing a week of school sometime during the 80s. And of course who could forget the Blizzard of 93.
There is old folklore to let you know when snow is coming-and even if it's going to be a snowy winter. Things like:
A late frost means a bad winter
For every frost or fog in August, there'll be a snowy day come winter (I could never remember to keep track of this one-and it doesn't frost here in August)
3 bad fogs in June or July means an early snow
If is snows crosslegged it'll be a deep one (what does crosslegged mean-the way it falls?)
Regular occurance of low rolling thunder in the fall portends a bad winter
If smoke from the chimney settles on the ground it'll be a hard winter
If it's cloudy and smoke rises it might snow
The number of Days old the moon is at the first snow-tells how many snows there'll be that winter (hmmm I should try to figure that one out)
It will be a hard winter if millers (moths) try to get in the window (don't that happen every summer?)
If snow lays on the ground for 3 days it's waiting for another snow (this one and the next 2 are the only ones I've actually heard folks say)
It will be a hard winter if there is more mast in the forest (nuts, berries, etc)
It will be a hard winter if animals coats are thicker than usual
(many of the saying above came from The Foxfire Book)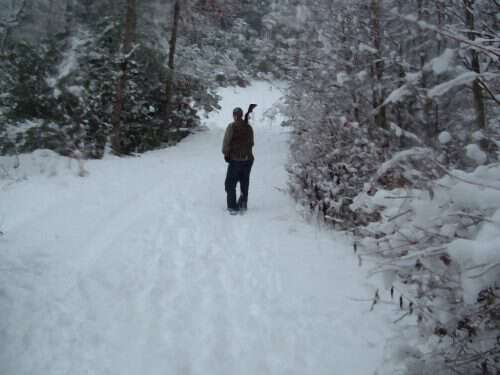 Even though I was only teasing Chatter, I know her and her sister will remember this winter and the snows that it brought. They'll remember the white Christmas-and the mysterious tracks, and their friend Patricia. Maybe they'll tell their kids it snowed more when they were little.
Do you think winters were worse in days gone by or that memories from childhood stand out ahead of the rest and make it seem like they were? Got any winter/snow sayings to add to the list of folklore?
Tipper