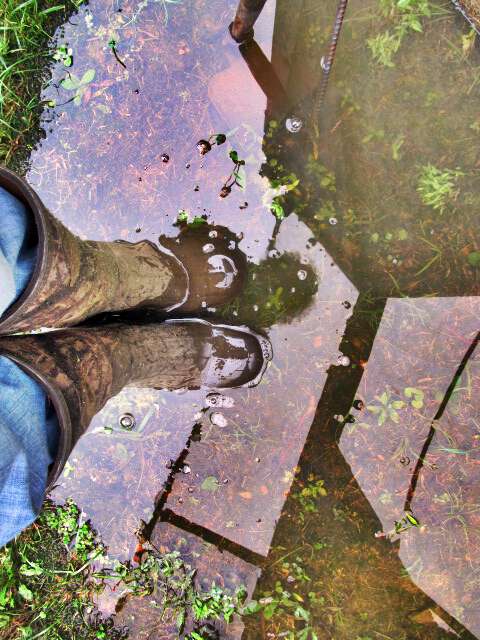 I've heard the saying not fit for man nor beast used to describe bad weather-both the cold and the wet variety. Interestingly, while googling around I found that the saying comes from an old W.C. Fields comedy skit and was originally slightly different than the version I've heard. You can read more about it here.
The weather in the mountains of Western North Carolina is definitely not fit for man nor beast this weekend. The photo above is of the small pond that's developed at the greenhouse door. It's similar to the one in the middle of the chicken lot. The hens can stay dry under their house or in their house but apparently they like rain.
In other exciting news the Blind Pig family learned how fast water can flow into a basement when the gutters are stopped up. I'm thankful we noticed the issue almost the instant it started. A quick run up a ladder, a hastily dug trench to divert the water, and some furious broom sweeping had things fixed just in time for the next downpour.
My thoughts and prayers go out to the folks who are suffering from the flooding and to those dear souls who are working in this weather not fit for man nor beast for the good of others.
Tipper