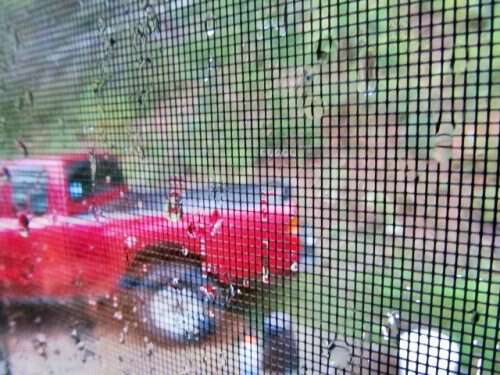 Yesterday the Governor of NC ordered a state of emergency for all 100 counties. Heavy rain is forecasted from today right on through the weekend. Although Hurricane Joaquin isn't expected to make landfall along our coast, the storm is still going to feed massive amounts of moisture into the area as it mixes with another weather system.
Miss Cindy's new digs down the road came with a humongous tree that had grown smack dab in the middle of the yard, nestled between the house and various out buildings. The house was built in the 1930s and I swear the tree has probably been growing that long if not longer.
The top had died in the last several years leaving an unstable tree hovering over her and the house. This past winter a huge limb came down, thankfully landing in a narrow gap between the house and out buildings.
Last week we were finally able to get the tree at Miss Cindy's down. We've also been able to get the towering pine trees on the bank above our house down. The Deer Hunter and one of his friends have been working evenings and weekends to get it all done and it ain't done yet! But knowing the tree at Miss Cindy's is down and knowing the pine above the corner of our kitchen is down will leave me feeling much better during this spot of bad weather as well as through the winter to come.
Seeing the various flood watches for our surrounding area has left me worrying about other folks. The impending weather also reminded me of posts I'd shared in the past about rain especially one where I mentioned a heavy rain being called a "little Noah" a term I wasn't familiar with until I read it in the Dictionary of Smoky Mountain English. Here are a few comments from you about rain.
Mamabug: Never heard of a little Noah. Folks around here sometimes refer to heavy rain as gully washers or frog stranglers. We had a hard rain here last night.
Steve in TN: Rain is a great soother. It is best when you don't have to work in it, but as I get older, it is always welcome. But I have also learned that too little or too much of anything isn't good. We called them gully washers.
Bradley: I've heard most of the sayings about rain. There was one I used to hear concerning an impending hard rain. Granny used to say (and I was never really sure of the mechanics ), "Boys, now you need to get inside cause it's fixin' to rain like two cats a fightin'." I suppose she meant when two male cats were competing for the attention of a female that they would spit at one another alot. I suppose the amount of spitting would be directly proportional to the desirability of the female. That is about as good a G-rating description as I can say.
Wanda in NoAla: Tipper, I haven't heard little Noah, but all the rest are commonly used here. My daddy used to say 'the bottom fell out'.
Don Casada: "Fell a flood" was mentioned at our family reunion last Sunday. Around 1940, there was what Pearl Cable called a water spout in Coots Cove, on the east side of Pilkey Creek basin. It was a very localized pouring (Pearl didn't recall it even raining at their house, less than a mile away) which completely decimated the area, washing away homes, Mae Posey's mill, and the bridge below the mill. A dead cow was left hanging up in a tree more than ten feet off the ground. The swath it cut appears to have been close to 100 ft wide in places, leaving nothing other than rocks in its wake. This is on a feeder stream which a 60 year old feller wearing a backpack can normally jump across. In early September of 1951, there was a washout event over on the TN side where a wall of water came down the West Prong of the Little Pigeon River in Gatlinburg and carried cars downstream. Good thing neither of these events happened recently – they'd surely have been the result of global warming 😉
Ken: Tipper, I'm very familiar with the Deer Hunter's saying about rain. And I say it came a "young Noah" when it comes a downburst and starts flooding. Way back in the 30's, before I was even thought about, my parents had a cloudburst and they escaped in the middle of the night with 3 of my older brothers. They lost everything…Ken
Ed Ammons: The first TV we ever had, had come from a TV shop in Franklin that had been flooded. The set worked just fine when we could "get a picture". When it finally gave up, me and Harold opened it up to try to fix it and it still had mud inside.
In the winter months I'm disappointed when the forecast for snow doesn't materialize, but this time I'm hoping the forecast is all wrong and no one suffers from flooding.
If you've got any rain sayings to add to the list please leave a comment I'd love to hear it!
Tipper