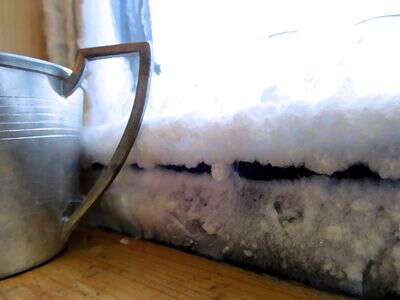 When your windows ice over like this-it tells you 2 things: It's really cold outside…and you could use some new windows.
Temperatures are supposed to be on the rise in Southern Appalachia today. But with so many areas of the US experiencing record breaking lows over the last few days I thought it was a good time to go over some cold as expressions-you know just in case it gets that cold again in a few weeks we'll be able to complain about it in a more colorful way.
Cold as whiz (I still don't really know what this means but I say it)
Cold as a well diggers butt
Blue Cold
Too cold to snow (I think this one might have been proved wrong during this cold snap)
Cold as kraut (Mary Lou McKillip sent me a message saying it was cold as kraut at her place)
Too cold to write your name in the snow (this is The Deer Hunters favorite)
Cold enough to freeze the nuts off a steel bridge
Cold as a Mother-n-law's heart (not mine-Miss Cindy's heart is full of warmth)
Colder than a witches titty
Colder than a witches tit in a brass bra
Cold as "gouge" (I don't know what this one means-but it's from Clay County NC-a blind pig reader left it in a comment one time-their Mother said it)
Cold as all get out
Cold enough for a 3 dog night
Too cold to stick your tongue to a flag pole
Cold as a frosted frog
Too cold to let the chickens out (ours won't come out anyway so!)
Hoping it warms up at your place today too-and if you have any cold sayings to add leave a comment!
Tipper