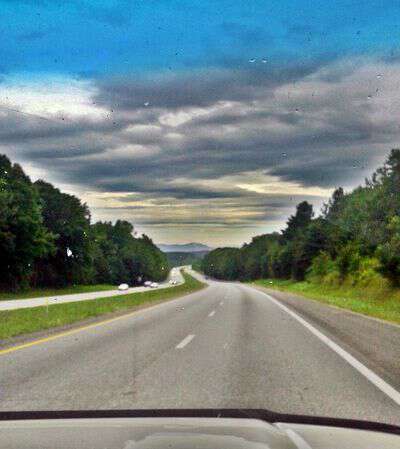 The Lands of Home-Again
Far away the birds fly toward the forest's quiet vales;
Above the fields the mountains rise in blue crests.
Choestoe Creek runs over shoals, murmurs and hails
The leaves that drop quietly from above hidden nests
That rest on limbs outstretched above the stream.
This scene is real, a paradise, not some wild dream.
Go with me there, to the land of home-again,
Where we will quietly and slowly regain
Perspective for the years that yet remain.
Ethelene Dyer Jones 2014
——————
Last week the Blind Pig family spent an enjoyable week at the beach. There was lots of sunshine, sparkling waves to run in, gritty sand to invade every crack and crevice, laughter to share, shark teeth to find, and sea shells to gather.
We had beautiful weather for our trip-even though Pap said it rained every day we were gone here in Brasstown. There was one humdinger of a storm while we were there.
Having never experienced a severe thunderstorm on the ocean front the girls convinced themselves we were all going to die. As I looked out at the low hanging black clouds-so low I swear we could reach out to touch them-I felt their fear. But once I looked around and noticed no one else was in a panic I decided that must just be how storms look without mountains to interfere with their progress.
The trip was a good one full of memories we'll never forget like the little boy, Hudson, and his family who set in front of us and entertained us on the beach each day without even knowing they were. But my was it a good to see our far blue mountains come into view on the trip home. I'm not sure which of us welcomed their sight more.
Almost getting teary eyed at the mountains' stance on the distant horizon I was reminded of Ethelene's poem and longed to be sitting in my little cramped office so that I could read it again and wonder over how wonderfully intertwined the land becomes with those who live in it fully.
Tipper