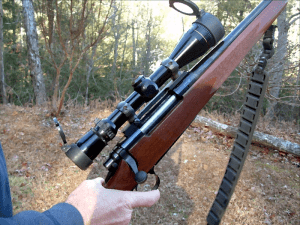 The Deer Hunter is…well…a hunter. He literally lives to hunt. He is a meat hunter-meaning we eat what he harvests on his hunting trips.
Recently I came across a quote in my Dictionary of Smoky Mountain English that reminded me of The Deer Hunter and his gun talk that I've listened to for the last 20 years.
turkey rifle noun
1941 Kendall Rifle-Making 22 The calibre of the mountain rifle deserves a word of mention. Strictly speaking, these rifles had no calibre in the ordinary sense of the word. Usually, however, four kinds of rifles were made: one of about .35 calibre (0.35 inch) which was called a squirrel gun; one about .40 calibre (0.40 inch) called a turkey rifle; one about .45 calibre (0.45 inch) called a deer rifle; and one of approximately .50 calibre (0.50 inch) called a bear gun.
The quote above is referring to black powder guns. Needless to say, guns have come a long way since 1941 and most people now use center fire rifles. Even though The Deer Hunter only hunts with a muzzleloader occasionally, he still refers to his guns individually as: his deer rifle; his squirrel gun; and his turkey gun.
Sometimes in Appalachia nouns are used in pairs like: biscuit bread, widow woman, and bear meat. The manner in which The Deer Hunter refers to his guns is a good example of how nouns are used in Appalachia.
Tipper
*Source: Dictionary of Smoky Mountain English