Today's post was written by Chitter.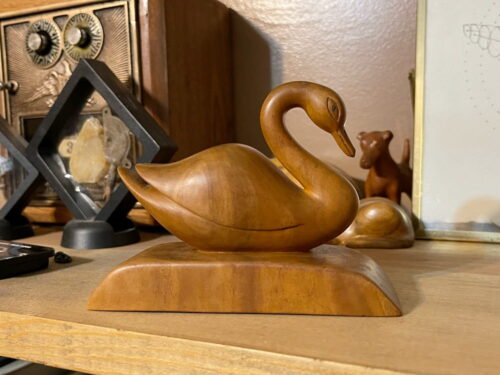 Every now and then I get a feeling that there is a Brasstown Carvers' carving out there waiting on me to find it and bring it home. Generally when I get a feeling a quick look on Etsy or Ebay will turn up a carving for me.
A couple of weeks ago I found the charming swan in the photo above. It was carved by Hayden Hensley who was one of the first Brasstown Carvers.
The carving group was created in the early 1930s by Olive Dame Campbell at the Folk School.
Those first carvings are my favorite. They have a very distinct look. The subjects carved in those days don't seem to be carved as often today. And at that time the carvings were all finished on site and dipped in a product called Deft.
Once it was known Deft was harmful they discontinued its use on the carvings. But the ones that were dipped in Deft take on a smooth buttery look that really stands out even though there is no shine.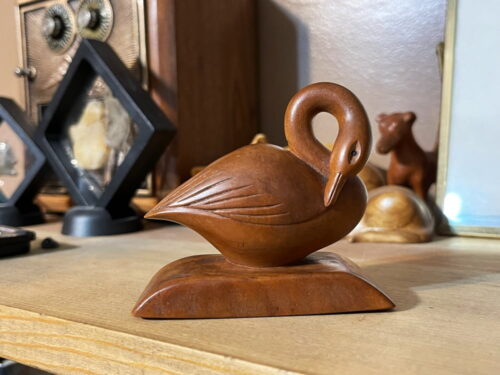 About three years ago my feeling led me to the smaller swan above. A very unique piece because of the bent neck. The swan was carved from a single piece of wood, in other words it took a very talented carver to create it. It was also carved by Hayden Hensley.
I love to think about Hayden carving the actually pieces, but also who touched them and where they traveled since they first left Brasstown so long ago. Interestingly I found both pieces in Delaware.
Over the years I've developed a great fondness for carvings made by Brasstown Carvers—from past and present carvers.
Bringing the old carvings back to their birth place gives me great joy.
Chitter
---
Last night's video: Talking With Granny About Life in Appalachia.