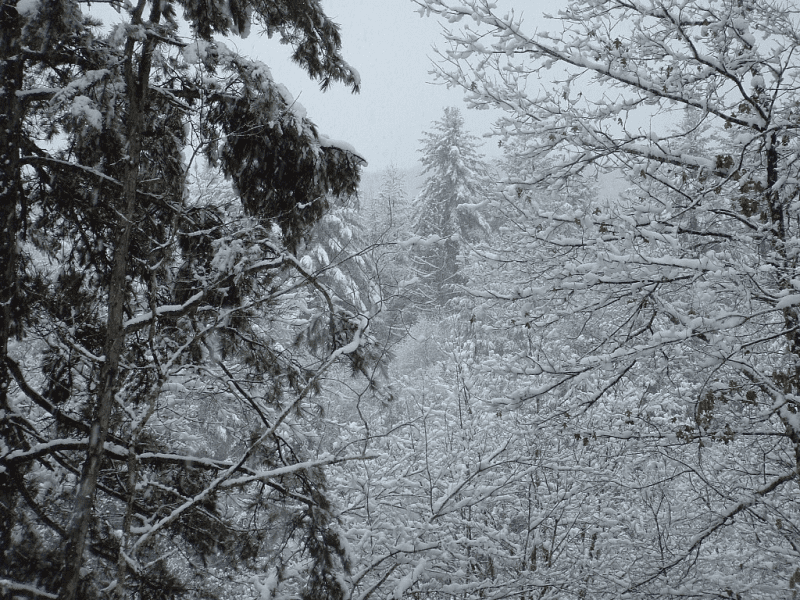 The 1974 Winter Edition of the Foxfire Magazine contains a compilation of newspaper articles written by Harvey Miller. At the time of the magazine's publication Miller's weekly column had been around for sixty years and was still being published in the Tri-County News located in Spruce Pine, North Carolina.
Here are a few of the February excerpts from the magazine.
1966
I don't believe it would be saying too much to put it this way, "We are snowed under." It's been such hazardous driving conditions for the last few days as I write this, that it is apparent now that folks are not venturing to drive too far away.
As I write this, a pretty good sized snow has been continually on the ground now, which started Saturday, January 15 and going now into the third week. There has been no school anywhere in Mitchell County since January 14, because of the slick roads and there has not been any services in any of the churches in this lower part of Mitchell County.
Zeke Barnett reported there was an ice tag hanging on his house Thursday that was seven feet long and four inches thick. Carmon Miller and son, L.D., reported that they seen large bear tracks in the snow at the head of Bob Hollow on Big Ridge Mountain.
2/10/66
1965
Joe Miller of Brummetts Creek section reported that during one of the nights last week when the snow was on the ground, something was aggravating his chickens and he went and found every chicken in the chicken house was on the outside wandering around in the snow and darkness. So he shined his flashlight and peeped into the chicken house where there he found a lone o'possum had took the chicken roost all for hisself.
Mrs. America Griffith of the Brummetts Creek Section passed on Feb. 7th at the age of 85.
2/18/65
1964
Several people in this lower part of Mitchell County seen a Satellite Tuesday night, Feb. 4th about 3 minutes past 7 p.m.
2/20/64
---
I hope you enjoyed this peek into Pigeon Roost from days gone by. In the last week I've heard stories about folks in my area seeing strange things in the sky and I had some pretty impressive icicles hanging on the eave of the front porch last week, but no where near as large as Zeke Barnett's. Our silly chickens have been all out of sorts from the cold and the snow. They've barely ventured outside the coop in a week, maybe I need a possum to run them out 🙂
Be sure to jump over to the Foxfire website and poke around. They are still publishing the magazine and those wonderful Foxfire Books too.
Last night's video: Eating Cornmeal Mush in Appalachia – Fried & Creamy.
Tipper
Subscribe for FREE and get a daily dose of Appalachia in your inbox