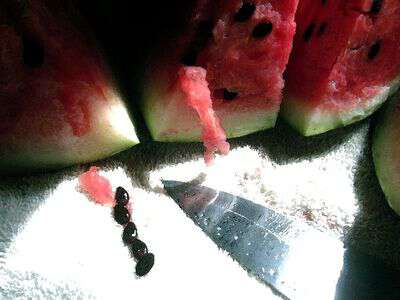 We had the first watermelon of the summer last week and man was it good. If you live in my neck of the woods-the watermelon came from the fine folks at Foster's Produce in Peachtree. I really think they should change their name to:  Always nice-always helpful-good people-good prices-Foster's Produce.
Chitter and me planted at least 30 watermelon plants if not more this year. They're all looking great at the moment, but I'm sorta worried since we didn't crawl backward to the patch when we planted them-but I have tried to keep everyone from pointing at them so they won't fall off the vine if they actually make. (if you don't know what silliness I'm talking about click here for watermelon folklore)
Ate your first watermelon of the year yet?
Tipper
Appalachia Through My Eyes – A series of photographs from my life in Southern Appalachia.