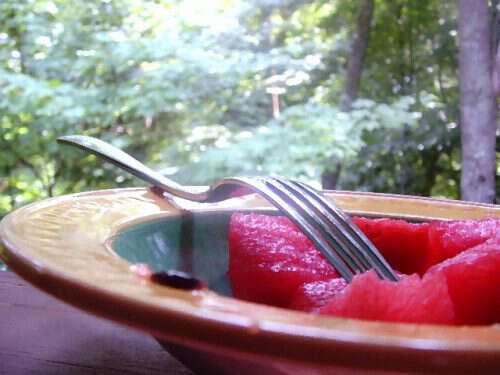 Watermelon-do you like it? I do believe I could live on Watermelon alone. I love it that much. I like it so much that I've tried to grow watermelons for years, all to no avail until last year. Last year I grew exactly one watermelon and I can't even really take credit for it since it was a volunteer plant, but it was tasty so I don't really care where it came from as long as I got to eat it.
Recently while thumbing through Frank C. Brown's Collection of NC Folklore I discovered why I've never had any luck growing watermelons. Here's just a few tricks of the trade:
Plant watermelons after the first full moon in April
Plant watermelons directly after breakfast
If you want to grow a good patch of watermelons-crawl backwards to the patch on the first morning in May
Don't point your finger at a young watermelon or it will fall off-if you must point use all 4 fingers
If you step over a watermelon vine-all the melons will fall off
If you plant watermelons before sunrise bugs will not eat the vines
I know most of the old folklore above sounds silly, but I love watermelon so very much that come next May 1 you'll probably find me crawling backwards to my garden. And I'm going to make sure no one steps over or points at my tiny melons that I've somehow managed to grow this year. Keep your fingers crossed for me that they actually get big enough for me to eat.
Do you like watermelon? Do you sprinkle salt on yours? I do.
Tipper
Appalachia Through My Eyes – A series of photographs from my life in Southern Appalachia.