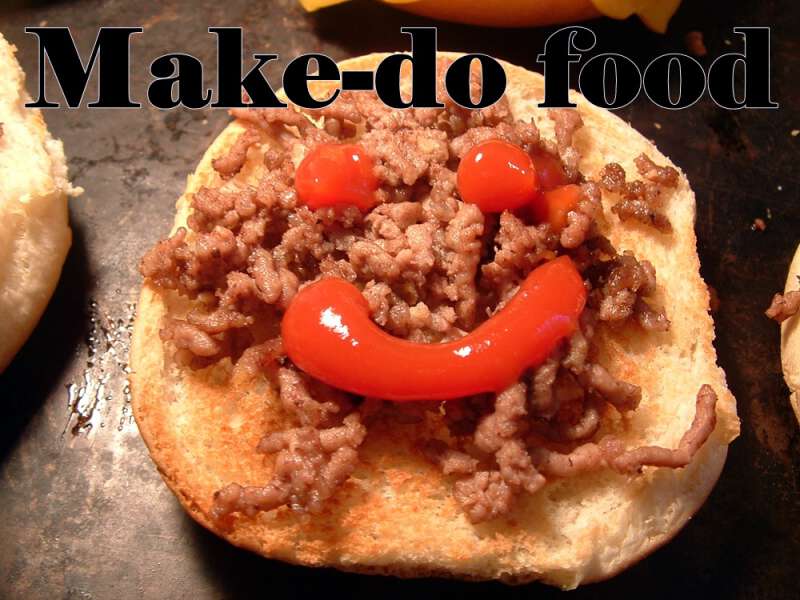 Using ground meat in some way usually comes to mind when one thinks of creating a cheap make-do kind of meal. There's untold ways to use it, from patting it out into hamburgers to slathering it with spaghetti sauce.
A few years back Blind Pig reader Ethel shared her make-do recipe for using ground beef with me.
Grandma's Cooking by Ethel Mertz
I was taught to make this dish when I was a bride thirty years ago. My husband lost his job and we moved in with his grandparents shortly after our wedding.
Grandpa was a kind, quiet man. Grandma kicked butt and took names! They were in their late sixties when I met them. Grandpa was retired but still active, Grandma worked nights as a school janitor. They were both raised in the coal fields of West Virginia and knew all about making do. I don't remember what year they were married, but it seems like Grandma always worked outside the home to help support the family. During the Depression she worked in a little diner in West Virginia where this recipe was on the menu. I don't remember her calling the dish by any particular name, so it will be interesting to see if other folks had a name for it.
Grandma, like most women of her generation, was an amazing cook. She didn't need to follow a recipe or measure anything. As a result of Grandma's cooking style, the following are approximations. Feel free to adjust the ingredients to suit your taste:
1 pound ground beef
1/2 c. diced onion
1 can baked beans
1 T. granulated sugar (I like it sweeter)
Brown the ground beef and onions, drain fat. Add beans and sugar, stir to combine. Heat through. Serve on buns.
Quick, inexpensive and surprisingly tasty, it's easy to see why this was a hit at the diner. Grandma said she made this at home a lot too, and served it with green beans – to which she always added a dab of bacon fat from the little crock she kept on the back of the stove. It was a fast, economical meal when she was so busy working and raising five children.
——————————–
A lady I used to work for made the dish Ethel described, with the only difference being she used a can of pork-n-beans instead of baked beans. Sometimes when I pulled out my packed lunch to eat she would insist I eat some of her hamburger hash, that's what she called the dish.
If you're familiar with the recipe or a variation of it, please tell us what it's called around your place.
Tipper