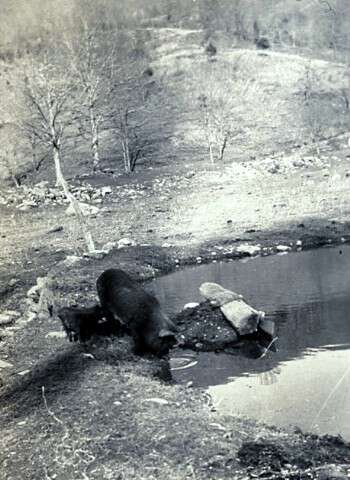 All one has to do is to take a walk through the local grocery store's meat department to see the variety it holds. Back in the day-before meat was so readily available-pork was the staple meat for most mountain families.
In the very early days-before the chestnut blight-most folks in Appalachia let their hogs free range and forage for their own food. After the blight, and as the land became more populated-folks kept their hogs closer to home.
In my area of Appalachia-folks waited for cold weather to arrive before slaughtering their hogs. I recently read where folks farther south used blocks of ice to aide in their hog killing process-since a stretch of cold weather couldn't be guaranteed as easily as it could in the mountains.
Pap and Granny never kept hogs, but I remember at some point someone in the holler did-maybe it was my Papaw Wade or maybe an Uncle. Whoever had them, kept them in a hog lot down below my Uncle Henry's. One of my funniest memories from childhood contains those hogs.
My cousin, Maria, and me were walking along the road that ran beside the pig lot. We realized the hogs were out at about the same time the 2 big hogs noticed us. We took off running towards home-with the 2 pigs in hot pursuit. I think we knew they wouldn't actually hurt us-but there was much screaming and laughing during the chase-and much teasing for 2 silly girls who ran from pigs afterward.
Tipper