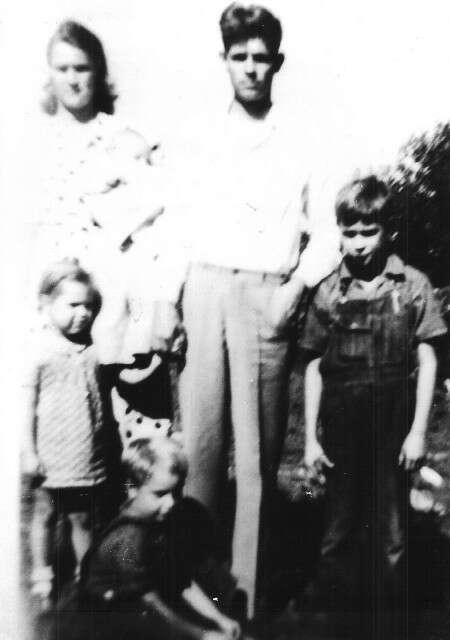 Pap wearing overalls with his family.
When Pap was about 9 years old, he had a favorite hideout. Up the ridge from his house he built a lean-to. He would spend his free time there building fires and sometimes baking potatoes in the coals.
One fall moonlit night, without telling anyone, Pap slipped off after supper, headed to his lean-to. Not having electricity at home, Pap was use to the dark and not scared to be out in it.
As he started up the dark moonlit trail, Pap was thinking about his lean-to and was pleased he had managed to sneak off by himself.
As the wind begin to pick up, he saw a tall dark figure walking quickly down the other side of the fence line. It wore a wide hat and a long dark flowing coat. Although the figure didn't seem to see Pap-it scared the beejeebies out of him.
Pap made a hasty retreat back home to the light of the oil lamp and the safety of his parents. He didn't tell anyone what he'd seen-for fear he'd be punished for slipping off.
A few days later, after the fear subsided, Pap realized the dark figure was probably someone he knew. There was a young man who lived in the area, with the last name of Frankum, who was often seen wandering the countryside.
Frankum was kinda strange and would often show up at Pap's house close to supper time, knowing he'd be offered something to eat. This was in the days of most families having little food due to rationing and just general hard times. Pap said it frustrated his father-because there was barely enough for them. But like most mountain folks-Pap's parents shared what they had even though it was very little. Frankum seemed to take advantage of their generosity-as often he would invite himself to spend the night, sleeping in the floor until breakfast time.
Not long after this incident Frankum joined the Merchant Marines-where he remained until his retirement.
Ever seen a dark figure in the woods? Glad to say I have not!!
Tipper